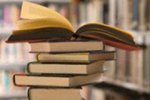 Seeing as I couldn't get into these books in  June, I decided that I am going to try and read them this month,  I really wanted to focus on the books I have recently got from publishers to review as you can see its not a huge pile of books so I knew I could get through this challenge. I am pleasantly surprised at how much I tackled this month.
The Death House by Sarah Pinborough
The Beast's Heart by Leife Shallcross
Rule by Ellen Goodlett (1st book in the series)
Rise by Ellen Goodlett (2nd book in the series)
Girls of Paper and Fire by Natasha Ngan
How She Died, How I lived by Mary Crockett
The Sisters of the Winter Wood by Rena Rossner
The Fall of Crazy House by James Patterson by James Patterson & Gabrielle Charbonnet
Screen Queens by Lori Goldstein
Her Royal Highness by Rachel Hawkins
Swipe Right for Murder by Derek Milman
A Match Made in Mehendi by Nandini Bajpai
Queen of Ruin by Tracy Banghart
What does your TBR look like this month?