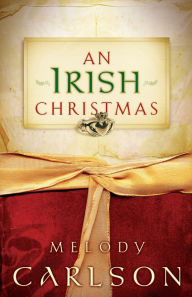 An Irish Christmas
on September 2007
Pages:
189
For Colleen, life is spinning out of control. She just lost her husband, and her relationship with her young adult son Jamie is crumbling. Should she confess to him the secret that has been haunting her for twenty years? Jamie has a few secrets of his own. When he announces his plans to join the military, Colleen decides it's time for the two of them to take a trip together--to Ireland. The truth they discover there could fulfill both their dreams in a way neither ever thought possible. An Irish Christmas is a captivating story of love, deception, and secret passions, from popular and prolific author Melody Carlson.
Today I am going to be doing just a mini review on An Irish Christmas because its this is a novelle book so there isn't alot to write about without giving away what the book is.
The book takes place in the early 1960's and a family is grieving the lose of a dad/husband. The book is about Colleen (the mom) and Jamie (her son). For Colleen the world as she knows it is shifting and she doesn't like it. She has just lost her husband of 22 years and her relationship with her son is going down the drain fast.
The Vietnam War is beginning and Jamie wants to join the Air Forces but Colleen would rather him stay home were he is safe. Jamie has no desire to go into the family show business and to add to that whenever Jamie is asked about his college he gets vague making Colleen wonder how truthful Jamie is being with her and how will she react when Jamie tells her his secret?  Speaking of being truthful, Colleen has been feeling guilty since her husbands death because she has a secret of her own that she thinks its time to tell Jamie about. Will these secrets be to much for each to bare?
Colleen decides that her and Jamie need to get away so she books tickets to spend Christmas in Ireland. She figures this is the perfect time to bond and perhaps share her secret with Jamie. Will Jamie do the same thing?
The book is told in Colleen and Jamie's point of views so you get the story from both points of views.
I really enjoyed reading this especially this time of the year because you want everyone to be happy and honest with each other. Christmas is a time for loving and being with family no matter what they have done in the past.