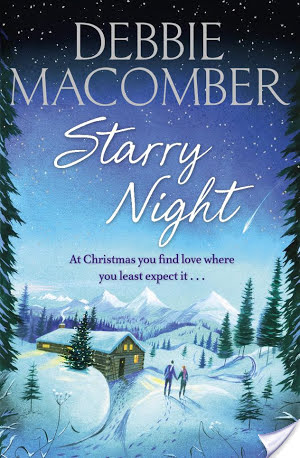 Starry Night
by Debbie Macomber
Format:
Hardcover
Published by
Random House on November 21st 2013
Pages:
272
Goodreads
Perfect Christmas women's fiction from international bestseller Debbie Macomber.'Tis the season for love and second chances ...Carrie Slayton, a big-city society-page columnist, longs to write more serious news stories. So her editor hands her a challenge first: Carrie must score the paper an interview with Finn Dalton, the notoriously reclusive author.Living in Alaskan wilderness, Finn has written a bestselling book about surviving in the wild. But he stubbornly declines to speak to anyone, and no one even knows exactly where he lives. With her career at stake, Carrie sacrifices her family celebrations and flies out to snowy Alaska. When she finally finds Finn, she discovers a man both more charismatic and more stubborn than she expected. And soon Carrie is torn between pursuing the story of a lifetime and following her heart.
I have to admit right from the beginning that I have never read anything by Debbie Macomber before reading Starry Night. I have to thank my friend, Jennifer for introducing this author to me. I really enjoyed reading Starry Night.
This was the year that I really got into reading Christmas themed books and I think that was due to the fact Jennifer passed on so many great books to me. I have to start off by saying that I loved the cover of the version I had and it was the glittery Starry Night that hooked be as I try to avoid reading what the book is about. I love going into a book not knowing what its about.
I was hooked into the story right away and I practically read this in one sitting which says alot about the book for me. It had all the right things I love about a book. I love when I book hooks you in right away and there is enough action, suspense and love to keep you into finding out more.
Carrie is a reporter for the Chicago Herald. She loves where is she is working but is getting tired of writing for the society page. When push comes to shove she goes into her bosses office and basically says she wants another position or she is prepared to leave there all together. I love Carrie and her determination to move forward with her career because she knows what she can and can't do.
Her boss tells her if she wants to advance she must score a exclusive interview with the famous author Finn Dalton. Finn has never given any kind of interviews or been photographed since his book has become the best seller. Every reporter has tried to locate him and none has been successful until Carrie comes along. Carrie is determined to find him and heads to Alaska to begin her search.
Finn has made it his mission to basically remain out of the spot light and hidden away. No one knows who he is and he probably could be walking beside you and you wouldn't even know it. So needless to say he isn't happy when his friend drops Carrie off outside his cottage in Alaska. His actions let Carrie know she isn't wanted around and as soon as the storm clears she is on a one way ticket back home.
As the story progress you can see that both Carrie and Finn are breaking down the walls and they are both starting to develop feelings for each other. Will they be able to live apart knowing that Finn wants nothing to do with the city life? Or will their love be enough to overcome that?
If your looking for a fun clean read then I highly recommend this book. Its the perfect holiday read in my opinion.