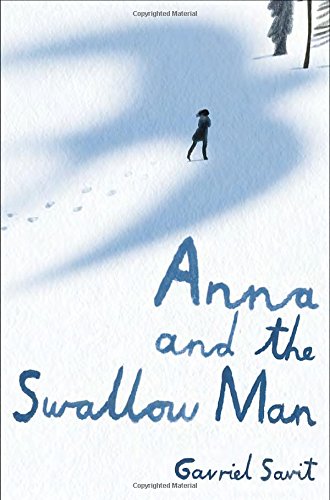 Anna and the Swallow Man
by Gavriel Savit
Format:
ARC
Published by
Random House Children's Books on January 26th 2016
Pages:
240
Goodreads
Genres:
Europe, Family, Historical, Holocaust, Orphans & Foster Homes, People & Places, Young Adult
A stunning, literary, and wholly original debut novel set in Poland during the Second World War perfect for readers of The Book Thief.   Kraków, 1939. A million marching soldiers and a thousand barking dogs. This is no place to grow up. Anna Łania is just seven years old when the Germans take her father, a linguistics professor, during their purge of intellectuals in Poland. She's alone. And then Anna meets the Swallow Man. He is a mystery, strange and tall, a skilled deceiver with more than a little magic up his sleeve. And when the soldiers in the streets look at him, they see what he wants them to see. The Swallow Man is not Anna's father—she knows that very well—but she also knows that, like her father, he's in danger of being taken, and like her father, he has a gift for languages: Polish, Russian, German, Yiddish, even Bird. When he summons a bright, beautiful swallow down to his hand to stop her from crying, Anna is entranced. She follows him into the wilderness. Over the course of their travels together, Anna and the Swallow Man will dodge bombs, tame soldiers, and even, despite their better judgment, make a friend. But in a world gone mad, everything can prove dangerous. Even the Swallow Man.    Destined to become a classic, Gavriel Savit's stunning debut reveals life's hardest lessons while celebrating its miraculous possibilities.
I received this book for free from publisher/pr firm in exchange for an honest review. This does not affect my opinion of the book or the content of my review.
I picked up Anna and the Swallow Man by Gavriel Savit during BEA 2015. I was drown into the cover when I first spotted it. Its very simple but I think eye catching at the same time.
As I sit here trying to write my review I am still thinking about the book. So I will have to be careful with my review because I don't want to give the story away and I tend to have a habit of doing that. Don't you just love it when I book holds onto you?
I went into the book not knowing what was going to happen and reading it I realized it was being told during the war and I wasn't sure I was prepared for that because I find those kinds of books very difficult to read. I do have to say its not that bad and its really not the focus of the book but you do know a war is happening. I think that is why I enjoyed the story more.
There is quite a few characters in the book but the main are Anna, the Swallow man and then a guy named Reb. I have to say that the Swallow Man and Reb were complete night and day but it worked and it balanced the two of them out and I think despite their differences they were looking for the same thing, acceptance. They both loved Anna and would do anything to protect her.
The book begins in 1939 in occupied Poland. Anna is seven years old. Anna's father is a linguistics professor and he has to attend a lecture that has been mandated by German authorities and we all know what that means and where this is going. He leaves Anna with a friend of his but when he fails to return home he forces Anna to leave. Anna has no where to go because the door is locked in her apartment and no one will take her in.
On the streets of Krawkow she sees a tall elegantly dressed man who manages to charm Anna when he has a swallow land on his finger. He takes her under his wing so to speak and before long they become traveling partners. The books spans over a few years because we see Anna is growing up.
The Swallow Man taught Anna how to survive and they did and it wasn't all sugar coated and happy you could see the struggle they endured with sleeping outside in harsh weather conditions, hiding from the enemy, the day to day struggle of blending in when they went into a city and the fight for food and how they would only eat once or twice a day. I think these are all live lessons that saved Anna in the end.
Reading the book you realized how different the world has become. Anna and the Swallow Man were able to cross man borders and patrols with no problems and the only one who had documents was Swallow Man. There was only one point in the book they encountered a problem and that was crossing into Russia but even through the gunfire no one was seriously hurt and they all remained together.
As I was reading I felt like I was traveling with them and I could picture the group traveling together.
For me the ending end like their could possibly be another book but I'm not sure but I would like there to be because I am curious to what Anna is doing and where she ended up along with the Swallow man.