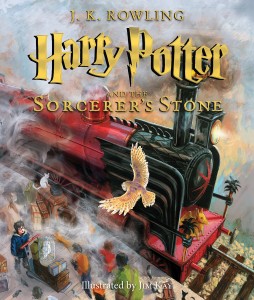 Harry Potter and the Sorcerer's Stone
Format:
eARC
on October 6, 2015
Pages:
256
For the first time, J. K. Rowling's beloved Harry Potter books will be presented in lavishly illustrated full-color editions. Kate Greenaway-award winning artist Jim Kay has created over 100 stunning illustrations, making this deluxe format a perfect gift as much for a child being introduced to the series, as for the dedicated fan.
Harry Potter has never been the star of a Quidditch team, scoring points while riding a broom far above the ground. He knows no spells, has never helped to hatch a dragon, and has never worn a cloak of invisibility.
I received this book for free from publisher/pr firm in exchange for an honest review. This does not affect my opinion of the book or the content of my review.
I was able to pick up a little sampler of this book at #BEA15.
I have yet to read the Harry Potter series (yes I know where have I been and why have I not read the books?) of books but I have to say after seeing this little sneak preview of the illustrated book I think I might just have to pick it up to read. Perhaps this is what I need to get me into the series.
The illustrations in this sampler were amazing and I can't wait to see what the actually book will look like.
Are you a Harry Potter fan?