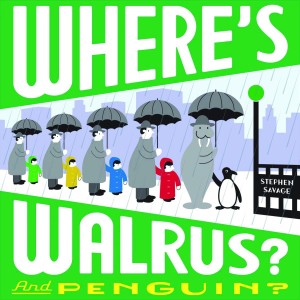 Where's Walrus and Penguin?
Format:
eARC
on August 25, 2015
Pages:
32
When Walrus escapes the zoo with his new friend Penguin, their adventures are twice the fun!
In this sequel to the acclaimed WHERE'S WALRUS?, author Stephen Savage doubles the fun when Walrus escapes the zoo with his mischievous pal, Penguin. Will the zookeeper find them? Or will these clever runaways stay one step ahead disguised as subway riders, baseball players, and even grand opera performers? Hiding in plain sight, they elude the clueless zookeeper until a fly ball at a baseball game leads Walrus and Penguin to a chance encounter with surprising results!
This is another picture book I picked at #BEA15.
This is the sequel to Where's Walrus? We haven't read the first book but have a request in at the library to get one.
Walrus and Penguin have escaped from the zoo. They are spotted by the security guard of the zoo and he is attempting to catch them but walrus and penguin are blending in with their surroundings so its make it hard to catch them.
The wander all over the city and doing various things and its not until the end that they are caught.
This is a super cute book and I think the young kids would love this. It was so much fun to flip through the pages to see what walrus and penguin were doing and I have to say they they blended in.