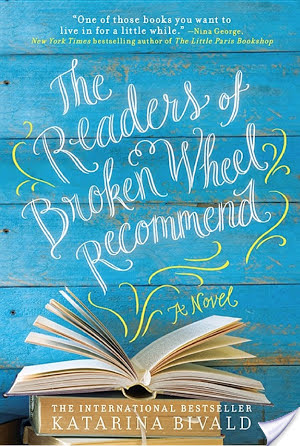 The Readers of Broken Wheel Recommend
by Katarina Bivald
Format:
ARC
Published by
Sourcebooks, Inc. on January 19th 2016
Pages:
400
Goodreads
Genres:
Contemporary Women, Fiction, Humorous, Literary
The International Bestseller #1 Indie Next Great Reads January 2016 #2 LibraryReads January 2016 Once you let a book into your life, the most unexpected things can happen...Broken Wheel, Iowa, has never seen anyone like Sara, who traveled all the way from Sweden just to meet her book-loving pen pal. When she arrives, however, she finds Amy's funeral guests just leaving. The residents of Broken Wheel are happy to look after their bewildered visitor -- not much else to do in a small town that's almost beyond repair. They just never imagined that she'd start a bookstore. Or that books could bring them together and change everything.There's a book for every person ... and a person for every book.
The Readers of Broken Wheel Recommend by Katarina Bivald was a book that I picked up at BEA 2015 and its been sitting on my shelves since then so I was really happy that I could finally dig into this book. I believe it was Lucy from Moonlight Gleams that told me about this book and I am happy that she did tell me about it because I really enjoyed reading this.
The main character Sara. lives in Sweden and use to work in a bookstore until it closed. During that time she was corresponding with Amy from a little town in Iowa called Broken Wheel. Sara has traveled to Broken Wheel by the request of Amy to spent two months together. How much fun would it be to meet a pen pal you have had that shares the common interest of books? I would have loved that.
Upon arriving in Broken Wheel Sara discovers that Amy has passed away. At first Sara doesn't know what to do and the people of Broken Wheel kind of take her in because that is what Amy would have wanted them to. Sara is uncomfortable at first because honestly who wouldn't be staying in a person's house who is no longer there and you haven't even met?
As the book progresses Sara is starting to meet the people of Broken Wheel. She realizes that they are a unique kind of people where it seems like everyone is there to help each other and have their backs and you can see Sara starting to fit into the town. I loved how every character in the book played a role in it and it all blended so well within the story.
For Sara she has a passion for books and loves to read. Not a lot of people share that kind of passion in the town and the only other person who loved books just as much as Sara was Amy. Gradually Sara begins to think that she needs to find a way to give back to the town for their kindness and perhaps this little town needs a bookstore. Sara brings it up because Amy actually had a empty building just sitting there waiting to be used and Amy has a ton of books that could fill the little store. (This is what I should be because I have a ton of books)
With the towns permission Sara goes a head to prepare the store but due to her visa she is unable to work to sell the books but she can give them away or lends them to the people of the Broken Wheel. At first its not a hit because no one likes to read and they are puzzled at how much and long Sara can seat and read for.
Gradually word starts to spread in the next city called Hope that Broken Wheel has a book store. I think out of curiousity they come to check it out but are quick to point out that no one from the town is ever there so with a little help of the town they set out to prove the people of Hope wrong. Can they pull it off?
As the weeks slip by the people of Broken Wheel begin to realize Sara's visa is about to expire and they don't want to loose her so they have to come up with a plan to make her stay but will Sara stay or will she want to go back to Sweden to be with her family?
This was a fun and pretty easy read and I did enjoy it. I think Sara is some one I would be friends with. I would be curious to see what kind of books she would recommend to me because she had that knack about her of giving the right person the right book.