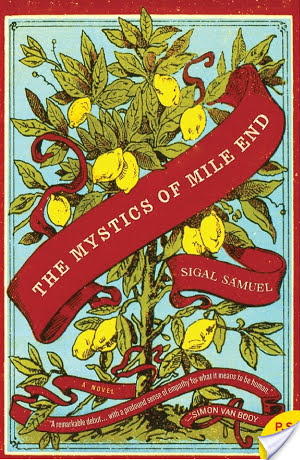 The Mystics of Mile End
by Sigal Samuel
Format:
ARC
Published by
HarperCollins on October 13th 2015
Pages:
320
Goodreads
Genres:
Family Life, Fiction, Jewish, Literary
Sigal Samuel's debut novel, in the vein of Nicole Krauss's bestselling The History of Love, is an imaginative story that delves into the heart of Jewish mysticism, faith, and family."This is not an ordinary tree I am making."This," he said, "this is the Tree of Knowledge." In the half-Hasidic, half-hipster Montreal neighborhood of Mile End, eleven-year-old Lev Meyer is discovering that there may be a place for Judaism in his life. As he learns about science in his day school, Lev begins his own extracurricular study of the Bible's Tree of Knowledge with neighbor Mr. Katz, who is building his own Tree out of trash. Meanwhile his sister Samara is secretly studying for her Bat Mitzvah with next-door neighbor and Holocaust survivor, Mr. Glassman. All the while his father, David, a professor of Jewish mysticism, is a non-believer.When, years later, David has a heart attack, he begins to believe God is speaking to him. While having an affair with one of his students, he delves into the complexities of Kabbalah. Months later Samara, too, grows obsessed with the Kabbalah's Tree of Life—hiding her interest from those who love her most–and is overcome with reaching the Tree's highest heights. The neighbors of Mile End have been there all along, but only one of them can catch her when she falls.
I received this book for free from publisher/pr firm in exchange for an honest review. This does not affect my opinion of the book or the content of my review.
I was lucky enough to attend a Book Blogger event when I was at BEA 2015 and pick up this little hidden gem while I was there.
Two things I loved about going into this book was one that it takes place here in a part of Montreal called the Mile End and secondly this is a Canadian author. I am making it my mission in 2016 to read more Canadian authors.
I should let you know that this is a debut novel. I love reading debut novels.
The books is broken down into four parts and each telling a part of the story. The four parts are Lev, Samara, (who are a brother and sister) David (their father) and the Mile End.
In the first section is about Lev and his journey. This was such a fun section and I loved how Lev kept trying to match up his dad with is teacher or vise versa. You can tell that he just wanted his dad to be happy after his mother died. What kid doesn't want that for their parent?
As a young boy he doesn't realize that his dad has already met someone else. He thought when he smelt the perfume it was his dad spraying himself with the mother's perfume. I have to say that I wish Sigal would have touched more on the friendship that Lev had with Alex and what happened.
Also in this chapter we meet the very eccentric neighbor Mr. Katz. He is quite the character and I think he was another character I would have loved to know more about. I loved how he was building a Tree of Knowledge in his front yard. We are also introduced to Mr. Glassman who is taking care of his sick wife who has had a stroke and over time she isn't doing well. I loved how Mr. Glassman would tell Lev about the numbered tattoos on his arm and so much more. Mr. Glassman reminded me so much of my parents and when my dad got sick and passed away, my mom didn't want to be left behind on her own and Mr Glassman was the exact same way he didn't want to live without his wife. This was so touching and sad and yes I did cry. So be prepared for the tears to flow.
The second section is about David. David is Lev and Samara's dad. I think once his wife died he become more distant from his children and in their religion. David provides the back ground story and what happened the night his wife was killed in a car accident. We also discover another side to David that even his children don't know about and what his father has been up to all this time.
The third section is about Samara. Samara is like the wild child, reckless and dangerous in a way. Behind everyone's back she goes a head and takes classes so that she can do her Bat Mitzvah. Its with Mr. Glassman's help that she does this. I think with everything going on she abandons it until discovering her father's manuscripts and this seems to entice her. But can she be saved before its too late?
Finally the last chapter is about the Mile End and this is where I feel as though I was missing something along the way. With Samara hallucinating about the Tree of Knowledge and physically climbing Mr Katz's hand made Tree of Knowledge in his front yard. I just didn't quite understand that.
This certainly won't detour me from reading future books from Sigal. I am determined to reread this book again to see if perhaps I missed something. Did I miss something?