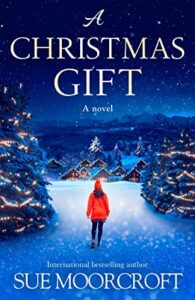 A Christmas Gift
by Sue Moorcroft
Published by
Avon
Goodreads
Georgine loves Christmas. The festive season always brings the little village of Middledip to life. But since her ex-boyfriend walked out, leaving her with crippling debts, Georgine's struggled to make ends meet.
To keep her mind off her worries, she throws herself into organising the Christmas show at the local school. And when handsome Joe Blackthorn becomes her assistant, Georgine's grateful for the help. But there's something about Joe she can't quite put her finger on. Could there be more to him than meets the eye?
Georgine's past is going to catch up with her in ways she never expected. But can the help of friends new and old make this a Christmas to remember after all?
Curl up with the gorgeous new book from the Sunday Times bestseller, perfect for fans of Carole Matthews and Trisha Ashley.

This was the fourth and final book that was talked about at the Harper Collins Canada Holiday Book Ball and it's A Christmas Gift by Sue Moorcroft. You can read my reviews for the previous three books by clicking on the titles Meet Me in London, The Christmas Escape, and The Matzah Ball. Just a little disclaimer that I purchased all the books that I am talking about with my own money.
Sue Moorcroft is a new to me author and after reading this I definitely want to read her backlist of books as well as future releases. I love being able to discover new authors and then being able to read their backlist of books. Thanks, Harper Collins Canada for hosting this event.
I love the cover of the book and if this is what Middledip looks like I definitely want to live there.
Since I am new to Sue Moorcroft books I don't know if this is part of her series and if they can be read as a stand-alone? As I was reading I never felt like I was missing out on something if that makes sense?
Our two main characters are Georgina and Joe. Georgina has come from a life of privilege but it's taken away from her and her family when she made a huge mistake. This had affected her and her family. Since then she tries to be careful with her money. You can see the panic when debt collectors start showing up and her door looking for her ex. Not being able to take it anymore she tells them where to find her ex who isn't too happy when they come knocking on his door. Finally thinking she is free from them they start knocking on her door again but this time it's not for her ex. What will she have to say this time about them?
Growing up Joe was a neglected child. His mother was an alcoholic and his stepfather was abusive. Joe hung out with the wrong crowd because they accepted him for what he was but his one true friend was Georgina and he regretted how he treated her and is hoping he can make things right again. My heart broke for Joe and was happy to see his uncle step in to take care of Joe because he deserved a better life than what he had.
The two finally reunite when Joe appears at the school she is working at. He knows who she is but she doesn't. I guess with a name change that is to be expected right? Although he is introduced to her as a friend of the principal and he is there to help there is more to Joe than meets the eye. I was intrigued by Joe. It was surprising that being in a school full of kids that no one recognized him as the drummer of a popular band, granted he did change to a more subtle look. It was nice to see that yes he is a rockstar he is still just a regular guy who wants to do the right thing and live a good life.
There is so much to Joe than Georgina knows, what will she do when she finds out the truth?
I really enjoyed this and I couldn't help but root for them both throughout the book. I hope there will be more of Georgina and Joe in future books.