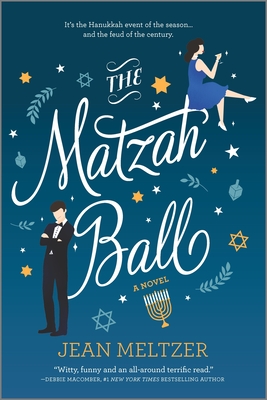 The Matzah Ball
by Jean Meltzer
Published by
MIRA on September 28, 2021
Pages:
416
Goodreads
Oy! to the world
Rachel Rubenstein-Goldblatt is a nice Jewish girl with a shameful secret: she loves Christmas. For a decade she's hidden her career as a Christmas romance novelist from her family. Her talent has made her a bestseller even as her chronic illness has always kept the kind of love she writes about out of reach.
But when her diversity-conscious publisher insists she write a Hanukkah romance, her well of inspiration suddenly runs dry. Hanukkah's not magical. It's not merry. It's not Christmas. Desperate not to lose her contract, Rachel's determined to find her muse at the Matzah Ball, a Jewish music celebration on the last night of Hanukkah, even if it means working with her summer camp archenemy—Jacob Greenberg.
Though Rachel and Jacob haven't seen each other since they were kids, their grudge still glows brighter than a menorah. But as they spend more time together, Rachel finds herself drawn to Hanukkah—and Jacob—in a way she never expected. Maybe this holiday of lights will be the spark she needed to set her heart ablaze.

This was the third book that was talked about at the Harper Collins Canada Holiday Book Ball and its The Matzah Ball by debut author Jean Meltzer. You can read my reviews for the previous two by clicking on the titles Meet Me in London and The Christmas Escape.  Just a little disclaimer that I purchased all the books that I am talking about with my own money.
No word of a lie but I read The Matzah Ball in one sitting. I have to thank my MS body for allowing me to sit and read this in one sitting. My body just wasn't having it so I listened and curled up on the couch with a hot tea and spent the day reading. It was just what I needed. This was so much fun to read during the holidays. It's a slow burn, friends to enemies, second/third/fourth chance romance, and a fun holiday book to read. It covers quite a few of my favorite tropes.
Our main character is Rachel, by day she is the famous rabi's daughter by night she is the best-selling author of Christmas books (Margot Cross), she is Christmas obsessed (she uses her home office to hide all her decorations)and dealing with a chronic illness (CFS/ME). All of which she has managed to keep to herself and the only other person who knows is her best friend, Mickey. What would her Jewish parents think if they knew their daughter was Christmas obsessed? What will the community think? She has to be careful because her father is the Rabi and her mother is a doctor.
Rachel thinks things are good with her books until she is called in to meet with the publisher. It seems like that is not the case and they are pushing her to write about the Jewish holiday. This breaks her heart because the Jewish holiday is nothing like Christmas. Christmas is a magical time of the year. If she can't produce a Jewish holiday-themed book they are going to let her go. She has no idea what she will do until she hears about The Matzah Ball that will be held in NYC. She thinks this would be the perfect backdrop for the book (and her publisher loves that idea) and she needs to secure a ticket to go but they are all sold out. Will she be able to find a way into the sold-out ball?
She soon discovers that her archnemesis, Jacob, from one year at summer camp is hosting this event. They haven't seen each other in over twenty years and they didn't exactly part on the best of terms as we discover as we read their story. I loved reading more of that background story because you know that at 12 years old things can get out of hand and emotions run high. Will they both be able to let the past be the past or will that hinder them from moving forward?
You definitely could feel the sparks between Rachel and Jacob even if they both couldn't admit it to themselves or each other. There was definitely a lot of broken communication and unresolved issues between them both that clearly needed to be worked out. For Jacob, it's the fact he felt like Rachel and he had that connection when they were twelve years old and she dropped/abandoned him when he needed her. For Rachel, she thought that Jacob took their pranking too far especially when they went to have their first kiss at twelve and everyone knew it was going to happen (because he told everyone it was going to happen) and hid to witness it. What will happen when they both can finally be honest with each other?
I really loved reading this and if there was to be a second story on these two I would definitely read it. I also loved that Jean had a side character with MS. I would have loved to know more about Jacob's mom. Its nice to see authors starting to bring illness and disability into books.