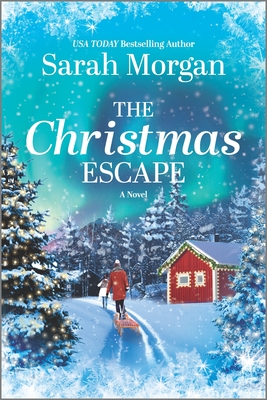 The Christmas Escape
by Sarah Morgan
Published by
HQN on October 26, 2021
Pages:
384
Goodreads
This Christmas, be whisked away by USA Today bestselling author Sarah Morgan in this uplifting novel of friendship, the festive season, and risking everything for the biggest gift of all...
It was supposed to be Christy Sullivan's perfect Christmas getaway—a trip to Lapland with her family and best friend, Alix. But facing a make-or-break marriage crisis, Christy desperately needs time alone with her husband. Her solution? Alix can take Christy's little daughter to Lapland, and they will reunite there for Christmas Day. It's a big ask, but what else are friends for?
There's nothing Alix won't do for Christy. But Christy's request to save Christmas is giving Alix sleepless nights. She knows something is wrong, but for the first time ever, Christy isn't talking. And even the Arctic temperatures in Lapland aren't enough to dampen the seriously inconvenient sizzle Alix is developing for Zac, a fellow guest and nemesis from her past.
As secrets unravel and unexpected romance shines under the northern lights, can Christy and Alix's Christmas escape give them the courage to fight for the relationships they really want, and save the precious gift of each other's friendship?

The Christmas Escape is Sarah Morgan's latest release and I have to admit I am so behind in reading Sarah's books, she is even an auto buy author for me so there is no reason I haven't caught up. Hopefully, in 2022 I will be able to catch up before her newest Beach Summer House comes out in May 2022.
This is the second book that was talked about at the Harper Collins Canada Holiday Book Ball and after hearing Sarah talk about it I knew I had to pick it up. Just a little disclaimer that I purchased this book with my own money.
Not sure what it is but as soon as I pick up Sarah's books I am instantly drawn into them and have a hard time putting them down. If I am lucky enough I can read them in a day sometimes two. This was the case for The Christmas Escape, I managed to read this in a day and loved every minute of it.
The Christmas Escape is told from three points of view from Christy, Alix (the best friend), and Robyn (the aunt).
Christy and Alix have been best friends since a young age. They have that kind of relationship that just works or at least thats what everyone thinks. Alix is that kind of friend you want in your corner who will be there when you need them, tell it like it is, and have your back. Both girls come from a complicated background, for Christy is was living with a mother who would rather have control of the situation and not have to deal with hard things or problems. It was easier to ignore them than to deal with them which Christy has picked up and lived her life that way. Alix, on the other hand basically has parents that treat their daughter like she is just another person and not their child. Needless to say, her parents were not involved really in her life and they treat her like a friend. She has taken on that mentality of not getting attached to anyone.
Now Robyn is Christy's estranged aunt and over the years the girls have wondered why she was estranged and have come up with many theories and Christy will soon find out what it was. After Christy's mother passed away she reached out to Robyn who then invited Christy and her family to Lapland for Christmas. I was curious as to why she was estranged and as she tells Christy it all makes sense.
It's funny because up until this year I never heard about Lapland but after reading Sarah's description of the place it sounds absolutely beautiful. Not sure I would want to go as it seems like it's a very cold place to go and we all know I don't like the cold.
Anyways back to my review. So Alix, Christy, Seb, and Holly (their young daughter) are gearing up to go to Lapland and things are perfect until Christy reads an email that she probably shouldn't have off of Seb's laptop and then Seb announces that Christy and Holly should go ahead and he will meet them there Christy begins to think that Seb is cheating on her, she asks Alix to go on ahead with Holly and they will meet up in a few days in Lapland. Is Seb cheating on Christy? Christy is concerned and stays behind so that they can work on this relationship. Will Seb tell her what is really going on? How will Christy react when he does tell her the truth and how he feels?
Little does Alix know but Seb's friend Zac is going with them to help look after Holly who can be a handful. This doesn't please Alix because they both have a history together and as the story progresses you find out exactly what happened the day of Christy and Seb's wedding. I know I was curious because Alix kept shutting Zac down was it because she really did dislike him or was there something more there? Will they be able to survive each other under the same roof?
I really enjoyed reading this and really hope that there will be a second book because so much happened at the end that I need answers to. This was the perfect feel-good holiday romance filled with second chances for everyone.