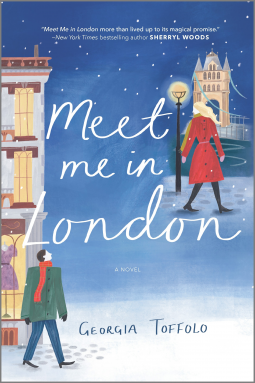 Meet Me in London (Meet Me, #1)
by Georgia Toffolo
Published by
HQN on September 28, 2021
Pages:
336
Goodreads
Fans of Josie Silver's One Day in December and Christina Lauren's In a Holidaze will adore watching Victoria and Oliver's pretend engagement dissolve as their very real chemistry threatens to upend all their carefully laid-out secrets. Set against the most charming London backdrop, Meet Me in London is an irrisistable seasonal treat!

What do you do when your fake engagement starts to feel too real…

Aspiring clothes designer Victoria Scott spends her days working in a bar in Chelsea and her evenings designing vintage clothes, dreaming of one day opening her own boutique. But these aspirations are under threat from the new department store opening at the end of her road. She needs a Christmas miracle, but one is not forthcoming.
Oliver Russell's Christmas is not looking very festive right now. His family's new London department store opening is behind schedule, and on top of that his interfering, if well-meaning, mother is pressing him to introduce his girlfriend to her over the holidays—a girlfriend who does not exist. He needs a diversion…something to keep his mother from meddling while he focuses on the business.
When Oliver meets Victoria, he offers a proposition: pretend to be his girlfriend at the opening of his store and he will provide an opportunity for Victoria to showcase her designs. But what starts as a business arrangement soon becomes something more tempting as the fake relationship starts to feel very real. But when secrets in Victoria's past are exposed, will Oliver walk away, or will they both follow their hearts and find what neither knew they were looking for…?
"An ideal Christmas escape!"—Laura Jane Williams, Bestselling author of Our Stop


Earlier this month I was invited to attend Haper Collins Canada Holiday Book Ball and it was so much fun. I enjoyed listening to the four authors (Georgia Toffolo, Sarah Morgan, Sue Moorcroft, and Jean Meltzer) talk about their books and answer questions.
The first book I am going to talk about is Meet Me in London by debut author Georgia Toffolo. Georgia 'Toff' Toffolo captured the nation's hearts when she was crowned Queen of the Jungle on I'm A Celebrity… Get Me Out of Here, after starring in the E4 series Made in Chelsea and becoming a firm favorite with the viewers. She has also recently appeared on Celebrity Hunted, The Great Celebrity Bake Off for SU2C, and Channel 5's My Famous Babysitter. Georgia now regularly features on ITV's This Morning.
I found out that this is the first book of a four-book series. This makes me really happy because after I finished reading I wanted more of the storyline and I wanted to more about the side characters. From the sounds of it, it seems like each book will be about one of the friends (Malie, Zoe, and Lily). After a search on Amazon, I found out the titles of the other books in the series, Meet Me in Hawaii (Malie), Meet Me in Tahiti (Zoe), and Meet Me at the Wedding (Lily).
Meet Me in London falls right into my love of fake dating/romance/engagement because you almost always know what will happen and yet you can't help but want it to happen as it's happening.
Our main characters are Victoria and Oliver. Victoria is an aspiring fashion designer but to make ends meet she works in a bar in Chelsea (London). As the book begins Victoria is worried that the new department store opening up down the street will threaten the lively hoods of all the mom and pop shops on the street. One night Oliver walks into her bar and he is instantly taken back by her. Little does Victoria know but Oliver is the CEO of the said department store. As the bar is closing he asks Victoria to marry him. She does what anyone would probably do and blows him off. Although after this brief moment you can clearly see that each of them has piqued interest.
What will happen when they literally bump into each other again? That's exactly what happens shortly after that first meeting. Victoria is carrying a huge box of fabric, ribbon, etc and they both literally bump into each other. This is where Oliver proposes the fake engagement once again but this time he explains it all out. Victoria figures she has nothing to lose and decides to go along with the plan. The only thing is as this is progressing you can clearly see that there is much more to this than both are willing to admit.
Will they be able to pull this off without a hitch? Or will something happen to offset it?
This was definitely a cute holiday romance. I loved how you could see the connection between the two of them and yet neither wanted to fully confess their true feelings.
I definitely want to continue to read this series when it comes out because there is so much I want to know, such as her family as they weren't really mentioned a lot in the book or present like Oliver's were, I want to know more about her friends since they are an important part of her life and does she finally get her dream to come true of being a fashion designer?
I should mention that I purchased this book with my own money.