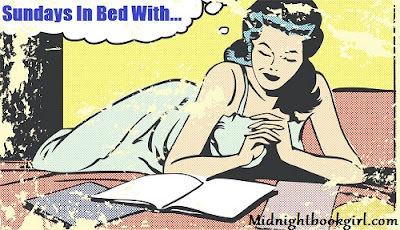 Welcome to our Sundays In Bed With… Meme! The meme that dares to ask what book has been in your bed this morning? Come share what book you've spent time curled up reading in bed, or which book you wish you had time to read today!
This is being hosted by two of the sweetest people I have the privilege of knowing in real life, Kate and Kim. Sadly we don't talk like we use to because you know real life happens but there is not a day that goes by that I don't think of them both. If you click on the banner it will take you right to the Midnight Book Girl blog.
I have decided that I want to get back into doing this fun weekly meme.
Its a beautiful warm sunny day here in Montreal. Its feeling like summer might actually come.
I didn't actually stay in bed reading this morning because it was just to sunny to stay in bed so I managed to make some coffee and sit out on the back deck until everyone got up. It was nice as there was a light breeze and the birds were chirping.
I am finishing up this today: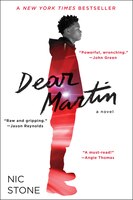 Justyce McAllister is a good kid, an honor student, and always there to help a friend—but none of that matters to the police officer who just put him in handcuffs. Despite leaving his rough neighborhood behind, he can't escape the scorn of his former peers or the ridicule of his new classmates.
Justyce looks to the teachings of Dr. Martin Luther King Jr. for answers. But do they hold up anymore? He starts a journal to Dr. King to find out.
Then comes the day Justyce goes driving with his best friend, Manny, windows rolled down, music turned up—way up, sparking the fury of a white off-duty cop beside them. Words fly. Shots are fired. Justyce and Manny are caught in the crosshairs. In the media fallout, it's Justyce who is under attack.
Then next up is: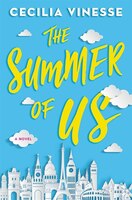 American expat Aubrey has only two weeks left in Europe before she leaves for college, and she's nowhere near ready. Good thing she and her best friend, Rae, have planned one last group trip across the continent. From Paris to Prague, they're going to explore famous museums, sip champagne in fancy restaurants, and eat as many croissants as possible with their friends Clara, Jonah, and Gabe.
But when old secrets come to light, Aubrey and Rae's trip goes from a carefree adventure to a complete disaster. For starters, there's Aubrey and Gabe's unresolved history, complicated by the fact that Aubrey is dating Jonah, Gabe's best friend. And then there's Rae's hopeless crush on the effortlessly cool Clara. How is Rae supposed to admit her feelings to someone so perfect when they're moving to different sides of the world in just a few weeks?
Author Cecilia Vinesse delivers a romantic European adventure that embraces the magic of warm summer nights, the thrill of first kisses, and the bittersweet ache of learning to say goodbye to the past while embracing the future.
[This comes out Tuesday, June 5th]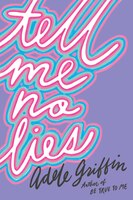 Can the course of friendship or love ever run true when everyone has something to hide?
Lizzy Swift is a senior in high school, emerging from her nerd chrysalis to become a social butterfly. She's dating Matt Ashley, the boy who's been out of her reach since freshman year. Her bold, reckless new friend Claire Reynolds introduces her to Center City Philadelphia—clubs, street life, and the eye-opening art scene. And her Ivy League ambitions take a backseat to nights of partying, dancing, and dating.
But almost as quickly, the heady delight of Lizzy's new life is clouded by doubts and deceptions.  While she has a special connection with Matt, it's not the perfect romance she dreamed of. Claire carries around a mysterious sadness and talks about a breakup so bad she changed schools—but she won't tell Lizzy the whole story. Lizzy wants Claire to confide in her, even as she keeps her own embarrassing secrets from her new best friend.
Will the truth come to light before it's too late for Lizzy, Claire, and Matt to save their love and friendships?
[This comes out on June 12th, 2018]
What are you reading today?