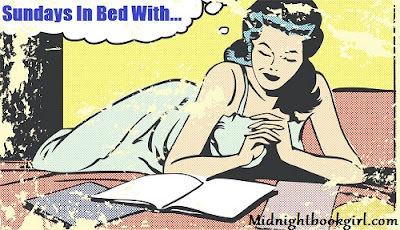 Welcome to our Sundays In Bed With… Meme! The meme that dares to ask what book has been in your bed this morning? Come share what book you've spent time curled up reading in bed, or which book you wish you had time to read today!
This is being hosted by two of the sweetest people I have to privilege of knowing in real life Kate and Kim. Sadly we don't talk like we use to because you know real life happens but there is not a day that goes by that I don't think of them both. If you click on the banner it will take you right to the Midnight Book Girl blog.
Good Sunday Morning everyone. I hope everyone had a great week/weekend. It was a little busy this weekend with Michael's last evaluation yesterday. He ended up in the A group and so far likes the kids on his team. Sadly I didn't make manager this time around and I think that was based on a few things which rather annoy me if you know me in real life.
Today will be a little busy as Michael is up and out the door already (7.30 am EST) because he has to be at a all day score keeping course and then I have to go to my great aunt's funeral. Its hard to believe that I no longer have any aunts or uncles alive.
So anyways before I ramble on because I am tired and barely slept last night here is the books I read last week:
This week I will be/planning to read:
I hope you all have a good week.. happy reading.