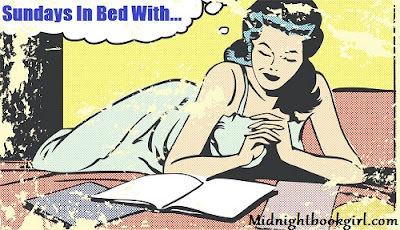 Welcome to our Sundays In Bed With… Meme! The meme that dares to ask what book has been in your bed this morning? Come share what book you've spent time curled up reading in bed, or which book you wish you had time to read today!
This is being hosted by two of the sweetest people I have to privilege of knowing in real life Kate and Kim. Sadly we don't talk like we use to because you know real life happens but there is not a day that goes by that I don't think of them both. If you click on the banner it will take you right to the Midnight Book Girl blog.
Good Morning everyone. Hope you all had a good week this past week. Its been busy here this week with Monday being a holiday (Labour Day) and that signified the last long weekend of Summer 2017. Where did the summer go? Plus we had to do some hockey equipement shopping because someone grew over the summer. Its official my son is now taller then me.
With buying new equipement that means hockey is right around the corner and this weekend and next is pre-camp and then it will be evaluations to decide if he will play Bantam A or B and who will be on his team and who will be the coaches. Before I know it, it will be the regular season.
Anyways here is what I read this week:
My review will be posted shortly for this. I really enjoyed it.
I will also be posting my review for this shortly and all I have to say is OMG…this book I have no words for.
This has been sitting on my TBR shelf for awhile and I finally decided to take it down to read and all I have to say is why haven't I read more of Colleen Hoover's books?
Finally the last book I read this week was this and it was for a blog tour that I did on Friday. I really enjoyed this retelling of Cinderella. You can read my review here.
Now for the book I am currently reading before getting ready for hockey is:
I will have my review of this posted tomorrow as I am on a blog tour for this book.
Not sure what is up next as I am kind of flipping between a few books and I just want to make sure I have no upcoming tours this week that requires reviews.
I hope you have a great reading day and week.