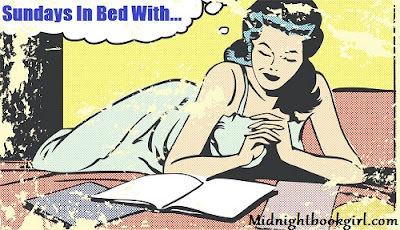 Welcome to our Sundays In Bed With… Meme! The meme that dares to ask what book has been in your bed this morning? Come share what book you've spent time curled up reading in bed, or which book you wish you had time to read today!
This is being hosted by two of the sweetest people I have to privilege of knowing in real life Kate and Kim. Sadly we don't talk like we use to because you know real life happens but there is not a day that goes by that I don't think of them both. If you click on the banner it will take you right to the Midnight Book Girl blog.
Good Morning everyone. I hope you are able to curl up and read for a bit this morning. Sadly I am not able to be curled up reading because today is literally a jammed pack day. Michael has pre-camp this morning for hockey, then I am running to Costco with my sister, Michael is shadowing in score keeping (he wants to do that this year) and then tonight he has a score keeping meeting so it will be none stop.
This past week I finished:
This is the second book in the slammed series and  so far so good. I am really enjoying Colleen's books.
For the upcoming week I am reading:
After that I am not quite sure what I will be reading next.
What are  you reading this week?