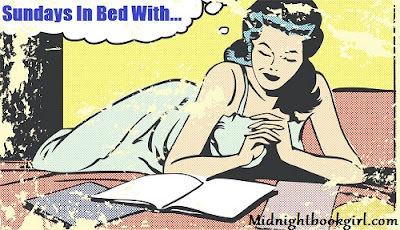 This is being hosted by two of the sweetest people I have the privilege of knowing in real life, Kate and Kim. Sadly we don't talk like we use to because you know real life happens but there is not a day that goes by that I don't think of them both.
Its hard to believe that I am back doing another Sunday's In Bed With…post. Where did the week go? It turned out to be a busy week here as DH decided to take this past week off so we were basically running around and doing things that we never get to on the weekends and I had to go for my monthly blood work.
Sadly not much reading got done this week because I also was hit with fatigue in the afternoons but I think that was due to all the running around we were doing in the mornings.
I ended up DNGing this because I just could not get into it and I tried most of the week but nothing so I dropped it. I have way to many books sitting here to read to waste time on books I can't get into. This is my new mantra this year. If within the first 50 pages I can't get into the book I am dropping it. Does anyone else do this?
I read this:
Currently reading:
What are you reading?