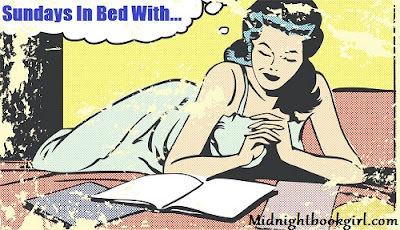 This is being hosted by two of the sweetest people I have the privilege of knowing in real life, Kate and Kim. Sadly we don't talk like we use to because you know real life happens but there is not a day that goes by that I don't think of them both.
Its hard to believe that I am back doing another Sunday's In Bed With…post. Where did the week go? The only thing we really did this past week was hockey. Michael had a game Sunday (won 3-1), Thursday (won 3-2 and Michael got the game winning goal for the team) and a game yesterday sadly we lost. Michael was asked to play today for the A's so fingers crossed they will win.
We are now done with our regular season and heading into playoffs next weekend. The team finished in 5th place out of 12 teams so we will be advancing to regionals later this month. So we aren't done with hockey just yet.
I am hoping for a better reading week this week since we are on Spring break. Hoping to tackle a lot of my TBR this week/month so we don't have anything planned for the week.
Although I am happy I managed to finish these two books. One was an eArc and the other was a physical book. My reviews will be up this week.
Going into this week I am thinking of reading these since they are all pretty much under 220 pages each:
What are you reading today?