Speak
by Laurie Halse Anderson
Published by
Puffin Books on April 20, 2006
Pages:
198
Goodreads
I wasted the last weeks of August watching bad cartoon. I did'n go to the mall, the lake, or the pool, or answer the phone. I have entered high school with the wrong hair, the wrong clothes, the wrong attitude. And I don't have anyone to sit with.
I am an outcast.
I recently found out that my son was reading this book for his grade 10 English class and I instantly had to ask him to make sure he brings it home over Christmas break so that I could read it. I was actually quite surprised when he handed it to me so that I could read it. He actually listened to me.
I have had Speak on my wishlist for many years now and several times I have almost picked it up to buy when I was at Chapters but then changed my mind for unknown reasons and put it back. I am thinking that perhaps I knew I wasn't ready to read the book.
This was a quick read for me and devoured it in one sitting. I can see why the teacher wanted the class to read this. Its a very important read for both boys and girls and especially important now considering what is going on in the world.
I do have to say that I found it took a little bit of time to get into the book because it basically begins with Melinda starting a new year of high school and she is a social outcast that everyone hates. They are pretty vocal about it. As you read this you wonder what has happened to cause all this but at the same time you feel for Melinda because you don't want to see anyone be outcasted and shunned in any grade at school.
From reading the book you can tell something serious must have happened for her to have stopped talking to basically everyone and she would rather be any place other then school. As the story progresses you begin to find out what really happened. If only everyone else would believe her and it takes her writing something on the bathroom stall for her to realize she is not alone in this situation.
I have to say that this book is definitely worthy of a family discussion and one we will be having when my son finishes it up.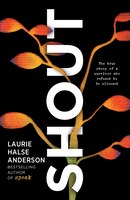 A searing poetic memoir and call to action from the bestselling and award-winning author of Speak, Laurie Halse Anderson!
Bestselling author Laurie Halse Anderson is known for the unflinching way she writes about, and advocates for, survivors of sexual assault. Now, inspired by her fans and enraged by how little in our culture has changed since her groundbreaking novel Speak was first published twenty years ago, she has written a poetry memoir that is as vulnerable as it is rallying, as timely as it is timeless. In free verse, Anderson shares reflections, rants, and calls to action woven between deeply personal stories from her life that she's never written about before. Searing and soul-searching, this important memoir is a denouncement of our society's failures and a love letter to all the people with the courage to say #MeToo and #TimesUp, whether aloud, online, or only in their own hearts. Shout speaks truth to power in a loud, clear voice– and once you hear it, it is impossible to ignore.
Coming out March 12, 2019