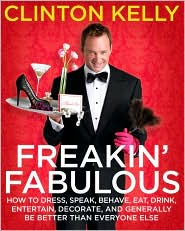 TITLE: Freakin' Fabulous: How to Dress, Speak, Behave, Eat, Drink, Entertain, Decorate, and Generally Be Better than Everyone Else
AUTHOR: Clinton Kelly
PUB DATE: October 2008
ISBN: 978-1-4169-6149-9
This was a Christmas present from my son and husband. It was one of my wish list books. As I am sure you are beginning to notice in the last few reviews I have done they are books from reality shows. I am a reality tv junkie. I admit it.
Clinton Kelly is the co host of What Not to Wear on TLC Friday nights. A favorite show of mine.
I loved the book. The book is divided up into seven sections. The sections are Dress, Speak, Behave, Eat, Drink, Entertain and Decorate.
How to dress Clinton offers advise on how to dress and what goes with what body types. How to fix fashion problems and how important it is to wear clothes that actually fit you and if they don't have to fix it so it does.
How to speak Clinton basically tells the reader how to speak properly and to speak like you know what your talking about. I learned a thing or two in this section. 🙂
How to behave talks about what is acceptable and what isn't when you are out. Don't you just hate it when your seeing someone put their lipstick on at the table or showing way too much public affection. The one thing I learned in this section was when you are invite over to someones house for dinner and you ask to bring something and they say "No" then don't bring them flowers or food. Also if you bring wine don't expect it too be served as they might already have a theme going. If you want to bring something Clinton suggests: a small box of chocolates, a book, pretty cocktail napkins, or coasters.
How to eat was my favorite section. There were a bunch of recipes and a how to tip section which include how to poach a chicken breast, and how to make whipping cream (which I never knew how to do properly).
How to drink and how to entertain had a few drink recipes and hors d'oeuvres, a wine list of what went with what, and some more helpful info.
Lastly how to decorate offered tips and information on how to make your place to look great.
copyright 2010, Cindy (Cindy's Love Of Books)
If you are reading this on a blog or website other than Cindy's Love Of Books or via a feedreader, this content has been stolen and used without permission.