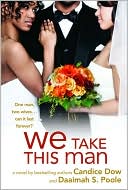 TITLE: We Take This Man
AUTHOR: Candice Dow and Daaimah S Poole
PUB DATE: January 7th, 2009
ISBN:978-0-446-50183-5
Thank you to Miriam for sending me this ARC to read and review. I really enjoyed the book. I was lucky enough to get to speak to the authors of the book in a Blog Talk Radio interview. You can listen HERE
We take this man is about a husband and wife, Dwight and Tracey. Tracey finally has the house she has always wanted. They are happy until Dwight gets a job offer in Maryland. This new job means having to move there and more money. Tracey refuses to move her and the girls to Maryland because she just got her dream home. Dwight heads to Maryland without them but tries to get back on the weekends.
While in Maryland Dwight is working hard and long hours with Alicia on a project. Alicia knows about Tracey and her not wanting to move to Maryland. She doesn't get involve with Dwight right away because she doesn't want to be the other woman like her mother was.
With a family trip to Disney planned Tracey thinks things will be okay but then her and Dwight have an arguement and he leaves to go back Maryland. Tracey realizes this isn't going to work so she tells Dwight he has to choose his job in Maryland or his family and he keeps the job in Maryland she wants a divorce.
With a divorce on the way Alicia and Dwight decide to take their relationship further. Alicia ends up pregnant. Dwight askes Alicia to marry him. With the knowledge that the divorce is finalized Dwight and Alicia get married. Alicia gives birth to Dwight Jr. When Tracey realizes she still cares about Dwight she doesn't go through with the divorce and her and the girls head to Maryland to be with Dwight.
What will happen when she shows up on Dwights doorstep? What will she think of the new wife? How will she handle it all? If you are curious to know then I suggest you get the book to read. I really enjoyed it and it kept my interested peaked through out the book. I don't want to give too much away.
copyright 2010, Cindy (Cindy's Love Of Books)
If you are reading this on a blog or website other than Cindy's Love Of Books or via a feedreader, this content has been stolen and used without permission.