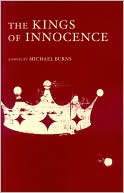 TITLE: The Kings of Innocence
AUTHOR: Michael Burns
PUB DATE: September 2007
Thank You to Michael for sending me his first book to read and review. I found this to be a quick read once I got into the story. This is a story of friendship and love for your friends.
The Kings of Innocence is about three recent college friends who are also childhood friends. Roy, Mark and Jay come together one summer in 2002. Roy goes home for two weeks to take care of his 17 year old brother, Bobby while their parents are in Ireland. During the two weeks the friends are living the typical college life, haven't yet thought about adulthood. They are out drinking, flirting with the women and getting into a fight or two. One that lands them being arrested.
Roy is 24 years old and he is an investment analyst living in Boston.
Mark is one of his best friends who is now a police officer.
Jay the last best friend has been teaching for a year and thinking about quitting. Jay has quit many colleges and changed his majors many times. He has yet to grow up and accept responsibility for his actions. He has a serios gambling problem.
When Roy and Mark realize how serious Jays problem is they try to help him out but he refuses their offer of help. Jay resorts to illegal measures to come up with the money. He goes from breaking into a drug dealers business and stealing some weed and reselling it to a college dealer to breaking into his place of employment and stealing money and he leaves evidence that a loan shark did it.
You can tell that there is a lifelong friendship between the friends. They tell it like it is and if any of them is in trouble they jump in and help out.
copyright 2010, Cindy (Cindy's Love Of Books)
If you are reading this on a blog or website other than Cindy's Love Of Books or via a feedreader, this content has been stolen and used without permission.