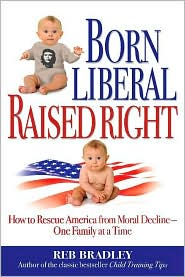 TITLE: Born Liberal Raised Right: How to Rescue America from Moral Decline- One Family at a Time
AUTHOR: Reb Bradley
PUB DATE: November 2008
ISBN:978-1-935071-006
This book was part of the blog tour that I took part in. Thank you to Dorothy for sending me this book to read and review. Thanks to Reb Bradley for sending me the book. I am hoping that in the new year Reb Bradley will be able to stop by and make a guest post on my blog and talk about his book.
Born Liberal Raised Right is about how the future of America is being threatened by adults who are acting like kids. He talks about the moral decline that is happening in America and how its the result of parents who are over indulging their kids and not providing them with self control that they need to learn in order to become successful members of society. He also talks about parents who over indulge their kids and as parents we fix all their problems and how we don't allow them to experience the consequences of their actions. The kids then grow up feeling they are entitled to everything they want and then can't accept disappointments when it comes there way.
Reb tells us that we are born with certain tenancies such as a desire of self gratification and a lack of self control. These are traits that children need and we as parents much teach them this.
Reb also talks about the fact that we are a society of "magical thinkers" who have unchecked emotions and we don't have the ability to deny ourselves. These traits are described as " the very hallmark of liberalism".
As a parent reading this book I realized that I need to teach my son alot of things so that he doesn't grow up expecting to have everything he wants and that things will happen in life that will be disappointing. I grew up and didn't have alot and I have to say that I truly didn't appreciated it. I grew up saying that when I am older I am going to make sure my children have more then what I have and that they should never be afraid to ask for something and be told "No" they can't have it. After reading this book I realized that this is not good. Thankfully my son is still young and I can correct this behavior.
copyright 2010, Cindy (Cindy's Love Of Books)
If you are reading this on a blog or website other than Cindy's Love Of Books or via a feedreader, this content has been stolen and used without permission.