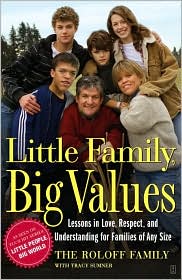 TITLE: Little Family, Big Values: Lessons in Love, Respect, and Understanding for Families of Any Size
AUTHORS: The Roloff Family
PUB DATE: March 2008
ISBN:978-1-4165-4911-6
I am a fan of the show on TLC called Little People Big World. I have been watching it since it started. They are no ordinary family. The parents Matt and Amy are little people. They have four children. A pair of 18 year old twins, Jeremy and Zach. Jeremy is average height and Zach is a little person. Their daughter Molly and younger son Jacob are average height.
In the book Little Family, Big Values, the Roloffs share their values that have helped them to become the family they are today. The book shares some family stories that you may not know about them, they talk about the importance of these values in their lives and the lessons they have learned along the way.
The book also talks about the following:
Amy's decision she made early on to give up her career as a teacher to be a stay at home mom to the kids when they were young.
Jeremy talks about the respect he has for his brother Zach. How even though he is a little person he is able to beat guys twice his size on the soccer field and let them know that even though he is a little person he can still play the game he loves.
Zach talks about how he knows his siblings really love him when they give up their Christmas at their home in Oregon to be with him in the hospital when he has surgery.
Peggy, Matt's mother talks about why Matt is the successful business that he is today. Its all because of a paper route he had as a boy. Matt had wanted skis and his parents wouldn't buy them so Matt came up with the idea of having a paper route to earn the money for them.
They are strong believer in God and in faith and you can see it when you read the book. I really enjoyed it as it gave you some background history on the families. The book is written by Matt, Amy, Peggy, Ron, Jeremy and Zach and one spot by Molly. Also included is some great pics of the family and kids.
Matt also has another book that came out in 1999 called Against Tall Odds. Its a memoir on Matt's life. Did you know that Matt was in Star Wars? He was in part three in the Star Wars movie trilogy, Return of the Jedi. His handicap helped land him a part as one of the diminutive, furry Ewoks.
This is my first book in the Buy a Book and Read Challenge of 2009.
copyright 2010, Cindy (Cindy's Love Of Books)
If you are reading this on a blog or website other than Cindy's Love Of Books or via a feedreader, this content has been stolen and used without permission.