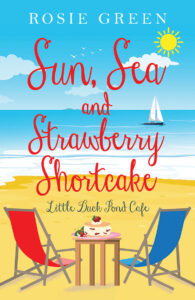 Title: Sun, Sea & Strawberry Shortcake
Series: Book 22 Little Duck Pond Cafe
Author: Rosie Green
Pages: 232
Pub Date: June 13, 2022
It was meant to be a gloriously romantic getaway in Wales for Ruby and Hudson. That was the plan, anyway. But then friends start inviting themselves along, lured by the idea of unwinding in a chocolate-box pretty cottage, wandering the lanes and the coastline, soaking up the sun and the stunningly beautiful Italian-inspired architecture. With Ellie, Jaz, Fen, and Madison popping up around every corner, plus another sinister mystery to solve, will the lovebirds ever find time to indulge their desire for sun, sea, and . . . strawberry shortcake?
Purchase Link – https://amzn.to/3LPqFee

This past year I stumbled upon Rachel's Random Resources book tours and I am so happy I did because I have been discovering some really good (new to me) authors and some really good books. Thank you, Rachel. Rachel graciously provided me with the eBook so that I could read it for my stop today.
This was a super quick read that I read in one sitting.  Actually the entire series each book can be read in one sitting because there are all pretty much under 250 pages.
This is the 22nd book in a 25-book series. I know I said after reading her last book, Jingle Bells in June that I wanted to start reading this series as I have enjoyed the books I have read so far. Before I begin my review I have to say that I am pretty sure you don't have to read the books in order but you might want to so that you can know more about the characters in the book. Each of the books is stand-alone with its own storyline but characters from previous books make appearances. Not once did I feel like I was missing something.
The main characters are Ruby and Jaz. They are returning characters in the book and here is where I wished I would have read the previous books because I would love to have known how they met and how their relationship came about. Did that take away from the book? No, it didn't. I still really enjoyed this.
Hudson surprises Ruby with a little mini vacation. Lately Ruby feels like they are out of sync with each other. Yes, they both love each other but it sort of feels like something is missing in their relationship and Ruby is trying to spice things up. Ruby is hoping this little mini vacation alone with Hudson will be just what the doctor ordered but no sooner are they there when Hudson's assistant, Joanna, pops up over the fence and she seems to be taking up all his time with work-related issues.
I have to admit that I was instantly annoyed with Joanna. As I was reading I could help but wonder if there was more to her than meets the eye and I was so right. She really just rubbed me the wrong way with her constantly interrupting Ruby and Hundson's time together, putting herself into situations she didn't need to, and her snide comments to Ruby.
The other main character in the book is Jaz. She is a new mom and being a parent you can relate to her and the struggles a new mom goes through. Things aren't perfect and she soon realizes that. With some wisdom from a new character, Emerald she knows what she has to do. There were so many times I just wanted to reach into the book and give her a reassuring hug.
Rosie also introduced two other new characters to the series and it was Bee and her daughter Jodie. Bee is the house cleaner for the house Ruby is staying at and they form an instant friendship and one that I hope will carry out throughout the series. Bee has struggled throughout her life and is hoping this will be a new start for her and her daughter but that's not the case. Not long after everyone appears in this cute little seaside town things begin to get weird and threatening for her. She is ready to pack it all in and move on but Ruby insists on helping her. Will Ruby be able to help before it's too late?
I was on the edge of my seat the whole time and couldn't put the book down. I can't wait to see what happens next for these characters.
Speaking of the book and characters the next books in the series is Clara's Secret Garden coming out on August 5th, A Winter Wish coming out on October 1st, and then Clara's Magical Christmas on November 30th.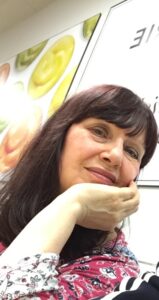 Author Bio – Rosie's series of novellas is centred around life in a country village cafe. Look out for 'Clara's Secret Garden' out in August 2022.
Follow Rosie on Twitter – https://twitter.com/Rosie_Green88