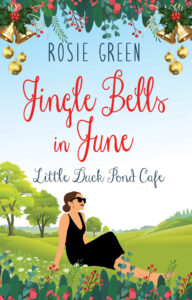 Title: Jingle Bells in June
Series: Book 21 in the Little Duck Pond Cafe
Author: Rosie Green
Pages: 202
Pub Date: April 22, 2022
Mackenzie Morris, the newest recruit at the Little Duck Pond Café, is the perfect addition to the team. But beneath her smiles, Kenzie is hiding a dark secret. It's the reason she fled to Sunnybrook, desperate for a fresh start that would help to lay the ghosts that haunt her.
The challenge of turning her hobby into a business is a welcome distraction, and to her relief, she finds that her range of quirky pottery mugs and vases appears to be in demand. Alone and scared when she arrived, she's slowly making friends and starting to feel as if she belongs. Meeting a lovely guy called Aidan seems to confirm this and it looks as if love might be on the horizon.
But then Kenzie makes a devastating discovery that threatens to crush her newfound happiness. Aidan is the one person she yearns to confide in. He's also the one person who can never know the truth . . .
Purchase Link – https://amzn.to/3jDyibP

This past year I stumbled upon Rachel's Random Resources book tours and I am so happy I did because I have been discovering some really good new to me authors and some really good books. Thank you, Rachel. Rachel graciously provided me with the eBook so that I could read it for my stop today.
This was a super quick read that I read in one sitting. Just be forewarned you might want to have a tissue on hand. The beginning is emotional. I will tell you that this book will give you every feeling possible.
This is the 21st book in a 23-book series. I believe all the books are under 200 pages long. After reading this I plan on reading this series as I enjoyed the newest one. Before I begin my review I have to say that I am not sure if each of the books is stand-alone per se or if you need to read the previous ones. So with that being said, I will try to keep my post-spoiler-free just in case.
The main character is Mackenzie and she just moved to Sunnybrook. She is working at the Little Duck Pond Cafe. She is trying to turn her passion for doing pottery into a business of her own. There is so much to Mackenize and the author does a fantastic job in telling it in such a short time.
If you were to look at Mackenzie you would think she has nothing to hide but in reality, she does have a few secrets. Can she keep her secrets hidden?
Then Mackenzie meets Aidan and I have to say Adian sounds like the perfect guy. I loved their interactions. You can see Mackenzie is struggling because she wants to confide in someone but she knows if she does it won't be good. Can she keep this from Aidan or will he find out?
Will she get the fresh start she has been looking for or will her past come back to haunt her?
I am excited to start this fantastic series and see how it starts and see where it goes.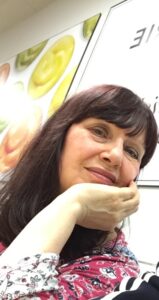 Author Bio
Rosie's series of novellas is centered around life in a country village cafe. Look out for 'Sun, Sea & Strawberry Shortcake', a sunshine-filled drama full of fun and mystery, out in June 2022 and including the return of character favorites, Ruby and Hudson.
Follow Rosie on Twitter – https://twitter.com/Rosie_Green88