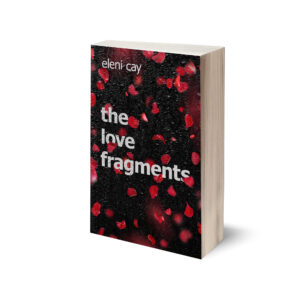 Title: The Love Fragments
Author: Eleni Cay
Publication Date:
Genre: Contemporary Romance
Buy Links https://amzn.to/3zmSm9k
Trigger Warning: The book contains some scenes of violence and rape which could be distressing to some
About the book:
London, 2035: Dr. Katie Kuznetsov is a tech-savvy, fresh graduate who's wrestling with Multiple Sclerosis and is starting her climb up the academic ladder. While watching her parents' marriage fall apart, she's battling the old-fashion ideas of her analog-loving fiancée, Mark. Katie attempts to spice up her relationship with social media dating. She meets mysterious businessman Aron and leaves Mark for the promise of a perfect relationship. At first, Aron seems like an ideal boyfriend, but his constant disappearances and lack of communication make Katie doubt her sense of self. When Katie discovers his secret, her life splinters into micro-aggressions and lies. In addition, she battles a relapse of Multiple Sclerosis, her parents' untimely divorce, and the breakdown of her relationship with old friends. Can Katie restore her faith in the integrity of people she meets online and off? Will she be able to piece her life back together and repair her belief in the wholeness of love?

Before I begin my review I quickly have to thank Kelly Lacey & Love Book Tours for allowing me to be a part of this book tour and for graciously providing me with an eBook of the book to read for my review stop today.
When I received this email about this tour I quickly jumped at the chance mainly because the main character of the book has MS (Multiple Sclerosis) and I have been struggling to find books where there are any main characters with MS. They are few and far between. If anyone happens to know of any please let me know in the comments down below. I am looking for fiction books.
This is the second book in the Seven Kinds of Love series. The first one is The Love Virus which I instantly purchased to read. Not quite sure if this is a dulogy or if there will be more books coming out.
The main character is Katie and she is 28. She was diagnosed with MS when she was 19. So this takes place roughly 9 years later in 2035 in London. Another one of my favorite cities. Since I have yet to read The Love Virus I am not sure how the book ended and since this is the second book I will try not to give too much away.
Katie has graduated with a Ph.D. in psychology and is excited to move forward with her career. She is engaged to her long-time boyfriend Mark. He has been there to help Katie from the beginning. Dealing with and managing MS is not easy on the person who has it and the people who are helping. I can totally relate to this.
Issues start to develop between Katie and Mark. Katie thinks the solution to their problems is spicing things up, Now this is where I think Katie went wrong in the plan because she goes to a dating app. It's on that app that she meets a man named Aron. Katie basically thinks that Aron is the next best thing to sliced bread. She breaks up with Mark and ignores her friends and family. Think that the grass is greener on the other side, but is it?
I have to admit in the beginning I was thinking that Aron seems too good to be true and I was right because he starts to mysteriously disappear and the lack of communication between them happens. Where is he going and what is he doing? What will Katie do when she uncovers the truth about Aron?
I was instantly hooked and wanted to read, which is a good thing, I thought the pacing was perfect. I pretty much devoured this in a day.
Eleni did a fantastic job with the book and it is so relatable. I am so happy that I grew up when I did, all before social media. I definitely think I would struggle with it had I been growing up in this era. Too many think that what they see online is real. Social media influences people's perceptions of things and relationships. You might think that so and so has the perfect relationship because that's what they show online but behind closed doors, it's a whole other thing. I have heard so many stories of just that, it's all perfect outside but a nightmare inside.
I definitely would continue this series if more books were to come out.