Book Info: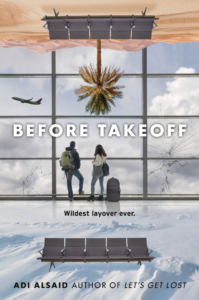 Before Takeoff by Adi Alsaid
Genre: Young Adult Literary Romance
Publishing Date: June 7, 2022
Synopsis:
The Sun Is Also a Star meets Jumanji when two teens meet and fall in love during a layover-gone-wrong at the Atlanta airport in this thrilling new novel from the author of Let's Get Lost!
James and Michelle find themselves in the Atlanta airport on a layover. They couldn't be more different, but seemingly interminable delays draw them both to a mysterious flashing green light–and each other.
Where James is passive, Michelle is anything but. And she quickly discovers that the flashing green light is actually… a button. Which she presses. Which may or may not unwittingly break the rules of the universe–at least as those rules apply to Hartsfield-Jackson Atlanta.
Before they can figure up from down, strange, impossible things start happening: snowstorms form inside the B terminal; jungles sprout up in the C terminal, and earthquakes split the ground apart in between. And no matter how hard they try, it seems no one can find a way in or out of the airport. James and Michelle team up to find their families and either escape the airport or put an end to its chaos–before it's too late.

Before I begin my review I quickly have to thank TBR and Beyond Tours for allowing me to be a part of this book tour and for graciously providing me with an eGalley of the book to read for my review stop today.
I was beyond excited when I was emailed to say that I was going to be on this tour. I have read I think all of Adi's books and loved them all. I knew this would be another one that I loved and I was correct. I was first introduced to Ali when he attended the very first MTL Ya Fest back in 2018. Hearing him speak about his books I knew then that I wanted to read them all. I definitely think I need to do a reread of them.
I pretty much read this in one sitting because I was instantly hooked and had to see what was going to happen next. This is definitely not like Ali's previous books.
I have never been to Atlanta but after reading this I definitely want to fly down just to see this airport. I did google for the images and wow is all I can say.
The main characters are James (16 years old) and Michelle (18 years old) and they are both stuck in the Atlanta airport on layovers. They are like night and day but still get along. It didn't solely focus on them just meeting but also about their lives outside of the airport. This is definitely not a meet-cute kind of book. Although I have to admit I wasn't sure what to expect and to be honest that is a good thing.
With that being said they spot this mysterious flashing green light, you know right away that this won't be a good thing. Nothing good can come of a mysterious flashing light. They discover that it's actually a button. I was thinking NO don't push it but at the same time, I was like push it. You know they will push it because if they don't there will be no story.
Well, they did push it and before they can figure up from down strange and weird things begin to happen in the airport. It's like all hell breaks loose. Each terminal is experiencing a different thing. One terminal is experiencing a snowstorm, another is getting torrential rain and inside is no better because an earthquake happens and a jungle appears. This, of course, freaks people out and they panic trying to get out of the airport and no one can find exits. What would you do if this happened to you during a layover?
I definitely play on picking up a finished copy the next time I order books. I more than likely will do a reread of the book.
Book Links:
GoodReads
Amazon
Barnes and Noble
Book Depository
Chapters Indigo
Indie Bound
About the Author:
Born and raised in Mexico City, Adi Alsaid is the author of several young adult novels including Let's Get Lost, We Didn't Ask For This, and North of Happy, a Kirkus Best Book nominee. He's also the editor of Come On In: 15 stories of immigration and finding a home. He currently lives in Chicago with his wife and two cats, where he occasionally spills hot sauce on things (and cats).
Author Links:
Website: https://www.adialsaid.com/
Twitter: https://twitter.com/AdiAlsaid
Instagram: https://www.instagram.com/uhhdee/
Goodreads: https://www.goodreads.com/author/show/4505164.Adi_Alsaid
Facebook: https://www.facebook.com/adialsaidauthor
Tour Schedule:
https://tbrandbeyondtours.com/2022/03/02/tour-schedule-before-takeoff-by-adi-alsaid/