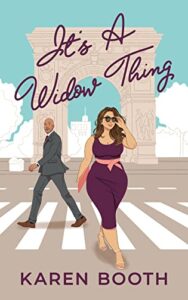 Title: It's A Widow Thing (Book 3 in the Never Too Late Series)
Author: Karen Booth
Pub Date: May 23rd, 2022
Publisher: Independently published
Pages: 218
About The Book:
He's on the fast track to serious, and she's hitting the brakes.
When cosmetics entrepreneur Sabrina Kelly waited until she was thirty-eight to marry, she never thought she'd be widowed by forty. Now, two years later, she's ready for a dip in the dating pool. And Michael, the merciless flirt who lives down the hall, seems like a fun way to get wet. He has "player" written all over him, but Sabrina's not looking for a love connection. Her heart can't take more than a fling.
Wall Street mogul Michael Wright has ignored his mom's pressure to marry for years. But it's not until he has a health scare that he finally takes stock of his life. If he's going to settle down, only one woman comes to mind… his gorgeous, whip-smart neighbor, Sabrina. Their chemistry is off the charts. The banter? So. Hot. But while he's working overtime to woo her, she's holding back. Can two people running at different speeds get to happily-ever-after together?

This past year I stumbled upon Rachel's Random Resources book tours and I am so happy I did because I have been discovering some really good new to me authors and some really good books. Thank you, Rachel.
As I mentioned earlier this week, I am on a blog tour for the Never Too Late book and today is my stop on the tour.  The books in this trilogy are: Gray Hair Don't Care, Brooklyn Monroe Wants it All, and It's a Wdow Thing.
I was graciously provided with an eArc of the book for my review today.
Even though this is the third and final book in the Never Too Late series, you can read these as stand-alone. Each book involves different characters and storylines. Previous characters do make an appearance in the books.
This is a slow burn, a second chance at love which I am all for. I definitely loved the slow burn because it suited the situation and those involved.
I am going to try and keep my review brief since this is a short story.
The main character is Sabrina a 40-year-old widow who lost her husband unexpectedly just two years into their marriage. Still grieving the loss she struggles to push herself forward to the next part of her life. Sabrina has thrown herself into her thriving makeup company.
Enter good-looking neighbor Michael. He recently had an accident that has him thinking he needs to rethink his life from a player to a more serious thing. He wants to settle down and start a family. He is ready for this next stage in his life. He knows life is too short.
Sabrina and Michael live on the same floor and most mornings they both ride the elevator together. You can tell they both enjoy those mornings. They are enjoying the time getting to know each other and flirting a little bit. You can almost feel the chemistry between them. Then out of the blue Michael kisses her and asks her out. This excites Sabrina and she agrees and then gets into her head thinking that it's all wrong, it's too soon. She feels bad because she thinks she is disrespecting her late husband, although I am sure he would want her to move on with her life. Will Sabrina go on this date?
I love how patient and caring Michael was with Sabrina. He knows not to push her.
Will Sabrina take a leap of faith or will she lose her chance at a happily ever after?
I can actually say that I fall into the demographic for this book. I am around the same age as the main character in the book. I really enjoy reading books where I know I can relate to the main characters. Even though this is fiction it's really relatable.
This was a pretty quick read (less than 220 pages) that I managed to read pretty much in one sitting. Once I started I didn't want to stop. I love the cover and I love that it takes place in one of my favorite cities, New York.
I definitely want to read future books by Karen and I definitely want to read her backlist titles.
Purchase Links
Amazon US
Amazon UK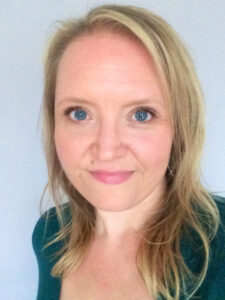 Author Bio
Karen Booth is a midwestern girl transplanted in the South, raised on '80s music and repeated readings of "Forever" by Judy Blume. Karen writes contemporary romance and women's fiction, almost always about the dreamy guy you never thought you'd get. Her stories are full of breathless kisses, tearjerker moments, family dynamics, and more than a few things she's glad her grandmother never read.
Social Media Links
Author website: https://karenbooth.net
Facebook: https://www.facebook.com/karenboothauthor
Twitter: https://twitter.com/karenbbooth
Instagram: https://www.instagram.com/karenbbooth/
Goodreads: https://www.goodreads.com/author/show/5781524.Karen_Booth