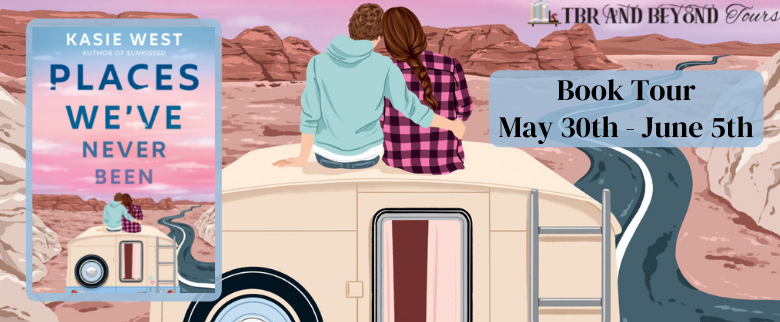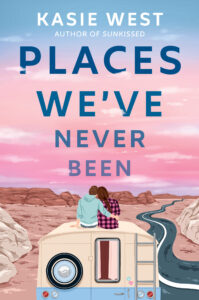 Title: Places We've Never Been
Author: Kasie West
Publication Date: May 31, 2022
Publisher: Delacorte Press
Pages: 336
About the book:
A sweet and swoony contemporary Young Adult novel about a cross-country family road trip that puts one girl and her childhood best friend on an unexpected road to romance!
Norah hasn't seen her childhood best friend, Skyler, in years. When he first moved away, they'd talk all the time, but lately their relationship has been reduced to liking each other's Instagram posts. That's why Norah can't wait for the joint RV road trip their families have planned for the summer.
But when Skyler finally arrives, he seems…like he'd rather be anywhere else. Hurt and confused, Norah reacts in kind. Suddenly, her oldest friendship is on the rocks.
An unexpected summer spent driving across the country leads both Norah and Skyler down new roads and to new discoveries. Before long, they are, once again, seeing each other in a different light. Can their friendship-turned-rivalry turn into something more?

Before I begin my review I quickly have to thank TBR and Beyond Tours for allowing me to be a part of this book tour and for graciously providing me with an eGalley of the book to read for my review stop today.
Have you ever picked up a book by an author you have never read and wondered why you never read this author before? Well, that's me. I have been blogging for almost 14 years now and I have never read anything by Kassie before today. Why have I not read any of Kassie's previous books? Going back and reading all the synopsis of her books they are definitely up my alley. I know moving forward I have to start picking them up to read.
I was quite surprised at how fast I read the eArc. I never check my status when reading ebooks so I was quite surprised when I finished it a few hours after starting it. It definitely made me long for a road trip, one that I haven't taken since 2019.
Growing up Norah and Skyler were best friends. Then eighth grade happened and Sklyer moved from California to Ohio. They tried to remain in contact but as time passed they lost contact unless you count stalking each other's Instagram accounts. It's now four years later when both their moms (who were college friends) have decided to do a three-week road trip with the kids (Norah, Ezra, Austin, Skyler, and Paisley) in RVs. You know with this many people and two RVs things are bound to happen and secrets revealed.
At first, Norah is excited to see Sklyer and to reconnect. She has envisioned this trip but sadly it doesn't go off as played. Skyler has made it pretty clear that there are other places he would rather be than on this road trip. Norah knows this isn't going to be the trip she thought it would be but at least she has Paisley who is more than willing to hang out with her. Will this be an enemies-to-lovers story?
The book is told from Norah's point of view so you don't fully get to understand Skyler if that makes sense. I would have loved to have had it done from a dual perspective. Although it was fun to read his reactions. I enjoyed watching this relationship grow again. Yes, it was awkward at times but I think that just added to the storyline.
I don't want to give too much away because I want you to pick it up and read it.
As I was reading I couldn't help but hope that this might be a second chance at love (which I have been reading a lot of lately). Will this road trip end up being everything Norah had hoped for? Or will all the secrets ruin it even more?
I think that this is the perfect book to read this summer especially if you have a road trip planned. I love books that have road trips in them especially if they talk about the stops they make. I love looking them up on a map. Hopefully one day I will make it south of the border again.
Book Links: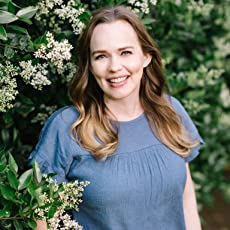 About the author:
Kasie West is the author of many YA novels, includingThe Fill-in Boyfriend, P.S. I Like You, Lucky in Love, and Listen to Your Heart. Her books have been named ALA-YALSA Quick Picks, JLG selections, and ALA-YALSA Best Books for Young Adults. When she's not writing, she's binge-watching television, devouring books, or burying her toes in the sand of the central coast. Kasie lives in Fresno, California, with her family.
Author Links:
Website: http://www.kasiewest.com/
Twitter: https://twitter.com/kasiewest
Instagram:  https://www.instagram.com/kasiewest/
Goodreads: https://www.goodreads.com/author/show/5027236.Kasie_West
Facebook: https://www.facebook.com/profile.php?id=100057934607048
Tour Schedule: https://tbrandbeyondtours.com/2022/04/22/tour-schedule-places-weve-never-been-by-kasie-west/