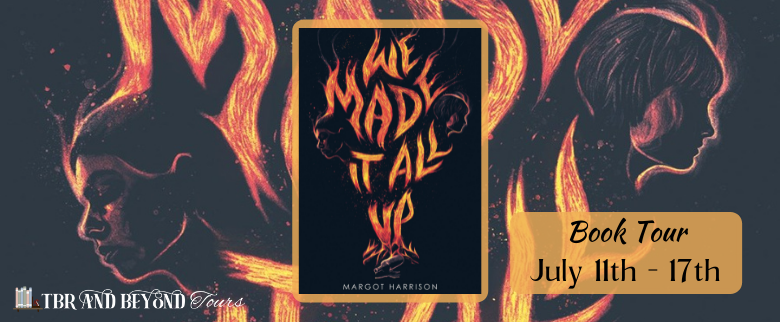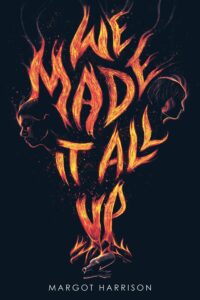 About the book:
We Made It All Up by Margot Harrison
Genre: Young Adult Mystery Thriller
Publishing Date: July 12, 2022
Synopsis:
Celeste is the talk of the town when she moves to Montana from Montreal, but the only friend she makes is Vivvy, the heir to the town's name and a social pariah. Inspired by a passion-fueled school incident, they begin writing a love-story fan fic between the popular guy and the school stoner, one that gradually reveals Celeste's past. While their bond makes Celeste feel safe and alive again, Vivvy keeps prodding Celeste to turn fantasy into reality. When they finally try, one drunken night on a dark mountainside, Celeste is the one who ends up kissing golden boy Joss. And Joss ends up dead.
Celeste doesn't remember the end of that night and can't be sure she didn't deliver the killing blow. Could she still be that scared of getting close to a boy? Secrets are hard to keep in a small town, and even Vivvy seems to suspect her. Exploring the winding passages of the cave where Joss died, Celeste learns he had his own dark secrets, as does Vivvy. The town isn't as innocent as it appears.
Content Warning: Mentions of past Sexual Assault, Talk of Homophobia (no slurs), Stalking, Slut Shaming

Before I begin my review I quickly have to thank TBR and Beyond Tours (you can click HERE to see the tour schedule) and the publisher for sending me an arc of the book to read.
Margot Harrison is a new author to me. Her previous two books are The Killer In Me, and The Glare. If they are anything like this I definitely want to read them.
I was pleasantly surprised by how instantly I was hooked into this and I could barely put it down. Needless to say, I read this within a few hours. I needed to know what was going on and what was going to happen.
I have to admit when I read the synopsis I knew I wanted to read the book because one of the main characters Celeste is moving to Montana from Montreal. I mean how could I pass this up. Although sadly there really isn't much about the city a few places I know and have visited were mentioned.
The book is told in a dual timeline that is between now ( November 16th) and then (August 29th). It's told in alternating chapters. This was done so beautifully and it worked for the storyline.
The storyline follows five characters throughout the book, Celeste (who has just moved from Montreal to Montana), Vivvy, Seth, Joss, and Bram (Vivvy's brother).
The book opens up with Celeste, Vivvy, Seth, and Joss playing a game of spin the bottle and drinking in a cave. Celeste is not only drunk but has blacked out and can't recall what happened apart from making out with Joss. She wakes up the next morning on a park bench. As Celeste is waiting to hear from Joss she soon finds out he is dead. She begins to question herself thinking that perhaps she did it. As the story progresses we see Celeste is trying to figure it all out. She would rather figure it out before the police come knocking on her door especially if she is behind it.
As the story progresses not only is everyone acting weird and suspicious but everyone has a different event of what happens. You also soon realize that this little town has a lot of deep dark secrets that they would like to remain secrets but will Joss's death bring them to light?
I think I have only one critique about the book and that is I wish there was more of a backstory on Celeste. With all that, she went through I was curious to know what happened, in the end, to make her leave Montreal with her father.
I have to say that I really enjoyed the book and I loved trying to figure it out, to be honest, I was back and forth the entire book, although I did have my suspicions about one of them because as I was nearing the end I was thinking it was making sense but I was completely wrong. I love reading these kinds of books because they have you on the edge of your seat the whole time. I love books that make you think and this certainly did that.
Book Links:
Goodreads: https://www.goodreads.com/book/show/58363606-we-made-it-all-up
Amazon: https://www.amazon.com/gp/product/B09L818R2G/
Barnes & Noble: https://www.barnesandnoble.com/w/we-made-it-all-up-margot-harrison/1140500777
Book Depository: https://www.bookdepository.com/We-Made-It-All-Up-Margot-Harrison/9780316275767
Indigo: https://www.chapters.indigo.ca/en-ca/books/we-made-it-all-up/9780316275767-item.html
IndieBound: https://www.indiebound.org/book/9780316275767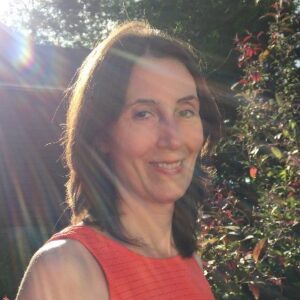 About the Author:

Margot Harrison has a lifelong habit of creeping herself out and now attempts to creep others out via her fiction. Her teenage dream was to see as many movies as possible and write about them, which she does as a Tomatometer critic for Vermont media company Seven Days.
She is also a Harvard grad, wrangler of calicos, speaker of French, a native of New York City, and lover of horror podcasts and strong black tea.
She loves hearing from readers! Fill in the contact form to send her a message.
Representation: Jessica Sinsheimer, Context Literary Agency
She sometimes tweets, but mostly chronicles all her ways of wasting time on Instagram.
Author Links:
Website: https://margotharrison.com/
Twitter: https://twitter.com/MargotFHarrison/
Instagram: https://www.instagram.com/margotfharrison/
Goodreads: https://www.goodreads.com/author/show/14215617.Margot_Harrison
Tour Schedule:
https://tbrandbeyondtours.com/2022/05/20/tour-schedule-we-made-it-all-up-by-margot-harrison/