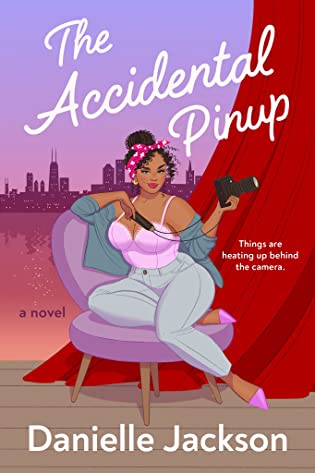 The Accidental Pinup
by Danielle Jackson
Published by
Berkley on July 19, 2022
Pages:
320
Goodreads
Rival photographers are forced to collaborate on a body-positive lingerie campaign, but they might have to readjust their focus when sparks fly.
Photographer Cassie Harris loves her job—her company Buxom Boudoir makes people look beautiful and feel empowered with her modern twist on classic pinup photography. Cassie's best friend, Dana, is about to launch her own dangerously dreamy lingerie line and wants Cassie to shoot and direct the career-changing national campaign. But company politics and Dana's complicated pregnancy interfere, and Cassie finds herself—a proud plus size Black woman—not behind the camera but in front of it.
Though she's never modeled herself, Cassie's pretty sure she can handle the sheer underwear and caution tape bralettes. She's not sure she can work so intimately with the chosen photographer, her long-time competitor in the Chicago photography scene, Reid Montgomery. Their chemistry is undeniable on set, however, and feelings can develop faster than film…

Before I begin my review I quickly have to thank Berkley/Penguin Random House USA for graciously providing me with an eGalley of The Accidental Pinup for my tour stop today. Which is out today.
When I first received the email about the book and read the synopsis, I knew I wanted to read it, and then I was sitting looking at the author's name because it seemed so familiar, so I did what anyone would do and that was to look up Danielle online. I was correct in knowing the name.  Danielle was one of the first few publicists I worked with when I started my blog almost 14 years ago. Danielle introduced me to so many fantastic romance books and she was the one to introduce me to my love of Terry Spear's books.
I also found out that Danielle is an event coordinator at one of my favorite indie bookstores. Hopefully one day I will be able to make it back to Chicago.
Anyways, on to my review.
The Accidental Pinup is Danielle's debut contemporary romance book. After reading this I will definitely continue to pick up her future books. I plan on picking up a finished copy of the book. Plus isn't the cover pretty?
I really enjoyed this and surprisingly enough I breezed through this pretty quickly. Once I started to read it I had a hard time putting it down.
The book is told in dual pov from Cassie and Reid. They are both rival photographers. Well in Cassie's mind they are because he has taken all the jobs she has put her name for.
One of the characters is Cassie, she is the owner of Buxom Boudoir (which is a pinup/boudoir photography business). Cassie is a plus-sized black woman who is funny, smart, strong, creative, and charming. I would definitely want to be friends with her in the real world.
Her best friend, Dana is an influencer and model who is coming out with her own lingerie collection of size-inclusive items as part of a collab with a  lingerie company. For Dana, the deal is she is going to model and Cassie will be the photographer but it seems like the company has other ideas in mind.
Then things switch because Dana who is pregnant is forced on bed rest for the remainder of her pregnancy and unable to model so they ask Cassie to fill in because they think she would be perfect for the campaign. Cassie is unsure because she has never wanted to be in front of the camera and always feels best behind it. Cassie is 100% comfortable with her body and has no issue with wearing lingerie.
Enter Reid who is hoping to land this national ad campaign because he really needs the money. His brother has moved back home but is struggling to pay his bills and asks Reid for help. When the company approaches Reid to lead the campaign as the art director AKA as babysit and keep an eye on Cassie. He accepts but before long he is asked to be the photographer. Can Cassie and Reid work together?
One of the things I loved was the slow-burn romance. It worked perfectly in this situation because it allowed Cassie and Reid to get to know each other better (since they were working together) instead of just jumping into bed together. I feel some books you just want that slow burn. I also loved that this fell into one of my favorite tropes of enemies to lovers. I mean who doesn't love this kind of trope?