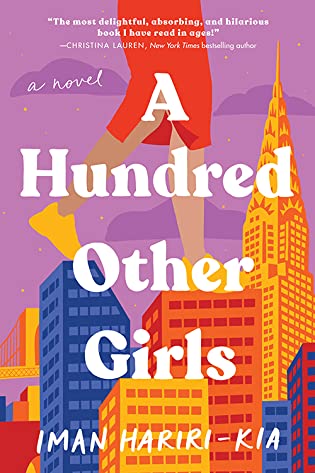 A Hundred Other Girls
by Iman Hariri-Kia
Published by
Sourcebooks Landmark on July 26, 2022
Pages:
304
Goodreads
For fans of The Devil Wears Prada and The Bold Type comes a smart, modern story about the shifting media landscape and one Middle Eastern-American writer finding her place in it.
How far would you go to keep the job a hundred other girls are ready to take?
Noora's life is a little off track. She's an aspiring writer and amateur blogger in New York—which is a nice way of saying that she tutors rich Upper East Side kids and is currently crashing on her sister's couch. But that's okay. Noora has Leila, who has always been her rock, and now she has another major influence to lean on: Vinyl magazine. The pages of Vinyl practically raised Noora, teaching her everything from how to properly insert a tampon to which political ideology she subscribes to.
So when she lands a highly coveted job as assistant to Loretta James, Vinyl's iconic editor-in-chief, Noora can't believe her luck. Her only dream is to write for Vinyl, and now with her foot firmly in the door and the Loretta James as her mentor, Noora is finally on the right path... or so she thinks.
Loretta is an unhinged nightmare, insecure and desperate to remain relevant in an evolving media landscape she doesn't understand. Noora's phone buzzes constantly with Loretta's bizarre demands, particularly with tasks Loretta hopes will undermine the success of Vinyl's wunderkind digital director Jade Aki. The reality of Noora's job is nothing like she expected, and a misguided crush on the hot IT guy only threatens to complicate things even more. But as Loretta and the old-school print team enter into a turf war with Jade and the woke-for-the-wrong-reasons digital team, Noora soon finds herself caught in the middle. And with her dream job on the line, she'll need to either choose a side or form her own.
Clever, incisive, and thoroughly fun, A Hundred Other Girls is an insider's take on the changing media industry, an ode to sisterhood, and a profound exploration of what it means to chase your dreams.

Before I begin my review I quickly have to thank Sourcebooks for granting me access to an eGalley of Iman Hariri-Kia's debut novel A Hundred Other Girls for my review today.
To this very day (after almost 14 years of my blogging),  I am still so appreciative of publicists and publishers who graciously provide me with arcs (both physically and digitally) of upcoming books to read and review for you all. I love to discover debut books or even books that might have gone under my radar, discover new authors and of course, read my favorite author's new books. So, once again thank you. I truly appreciate it.
As I mentioned this is a debut and I have to say that I breezed through this book fairly quickly, I read this in a day much to my surprise. I just have to say that I thought the beginning (the first few chapters) started a bit slow but then it really picked up I really enjoyed it and had a hard time putting it down. I will definitely be picking up future books that Iman writes.
The story takes place in my all-time favorite city, New York City.
The main character is Noora and she is a blogger (which I love reading about in books), growing up she has always loved the magazine Vinyl. Her dream finally comes true when she lands a job as an assistant to the editor-in-chief of the print magazine, Loretta James. She soon realizes that this is not all it's cracked up to be and this might not be her dream job after all. Will she be able to stick it out?
Since her parents left the country, Noora has been living on her sister, Leila's couch. Thankfully the siblings get along. Leila has always been there for Noora through thick and thin.
Noora has always wanted to be a writer and landing this assistant job she thinks she will get her foot in the door but soon realizes it's not going to be as easy as she thinks it will be because Loretta makes her promise that she will not write any articles except for her blog. She also realizes that working with Loretta is not all it's cracked up to be. Loretta is that boss from hell (which I can totally relate to) and has basically let Noora know she can't have a life outside of work. She needs to be available day or night for her. This is where I definitely saw The Devil Wears Prada comparison. Which was a movie I really enjoyed.
If dealing with the boss from hell wasn't enough, Noora soon realizes that the print and digital version of Vinyl is at war with each other. Which will come out on top or will they be able to work together? Before Noora can blink she is thrust into the underground world of the war between the two so to speak. She struggles with what to do and decides what she has to do but will this be her downfall?
I loved watching Noora finally get the confidence she needed to speak up and stand up for herself.
I could totally relate to Noora on so many levels. Working for Vinyl has always been her dream but then the boss from hell ruins it for her. She wants to quit but can't because she needs the money. So she sticks it out risking her health for it. We have all been there, having a job we finally love and want to go to every day but then to have it all ruined by that boss who takes it away from us. We have to realize that those kinds of people are not good for us physically and mentally. We need to know when to step away.