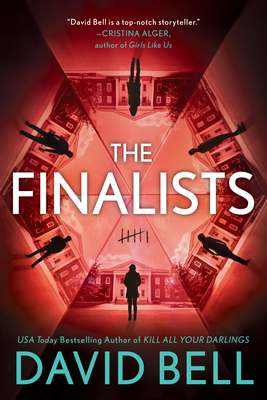 The Finalists
by David Bell
Published by
Berkley Books on July 5, 2022
Pages:
400
Goodreads
The competitive selection process for a prized college scholarship turns deadly in the latest thriller from USA Today bestselling author David Bell.
On a beautiful spring day, six college students with nothing in common besides a desperate inability to pay for school gather to compete for the prestigious Hyde Fellowship.
Milo--The front-runner.
Natalia--The brain.
James--The rule follower.
Sydney--The athlete.
Duffy--The cowboy.
Emily--The social justice warrior.
The six of them must surrender their devices when they enter Hyde House, an aging Victorian structure that sits in a secluded part of campus.
Once inside, the doors lock behind them. The students are not allowed to leave until they spend eight hours with a college administrator who will do almost anything to keep the school afloat and Nicholas Hyde, the privileged and notoriously irresponsible heir to the Hyde family fortune. If the students leave before time is up, they'll be immediately disqualified.
But when one of the six finalists drops dead, the other students fear they're being picked off one by one. With a violent protest raging outside and no way to escape, the survivors viciously turn on each other.
The Finalists is a chilling and profound look at the lengths both students and colleges will go to survive in a resource-starved academic world.

Before I begin my review I quickly have to thank Penguin Random House USA for graciously providing me with an eGalley of The Finalists to read for my tour stop today.
This is David Bell's twelfth book and they are all stand-alone. His previous books are Cemetary Girl, The Hiding Place, Never Come Back, The Forgotten Girl, Somebody I Used to Know, Since She Went Away, Bring Her Home, Somebody's Daughter, Layover, The Request, and Kill All Your Darlings.
I have only read one other book by David Bell and it was Layover. I knew then that he was an author I wanted to read more from and sadly I haven't followed through with that until The Finalists his latest. Now I know he is definitely an author I want to read his backlist. His books are Mystery & thrillers. If you know me you will know that I love thrillers, especially ones where you literally can't put the book down.
That was the case for The Finalists. It wasn't until I went to put this into my GoodReads that I saw the book was 400 pages. Reading it as an eGalley I never really pay attention to the percent read and only notice those things later. I was instantly hooked and had a hard time putting the book down. I somehow managed to read this one rainy day.
The book takes place on one beautiful spring day. One of the things I love about the book is that there are only 8 characters involved which makes it easier to follow what is going on and to remember who everyone is. Plus the short chapters are another win for me.
The Finalists take place at a small town University and every year a group of top students with financial needs is selected to take part with one person being the winner to have the scholarship to attend the school. It is being funded by the founding family of the university. This year the remaining heir, Nicholas is putting the event on.
The participants are Milo, Natalia, James, Sydney, Duffy, and Emily, along with Troy who is the college administrator, and Nicholas, the Hyde heir. Everyone has a different background and they don't seem to have anything in common but the need to win this scholarship. As a parent, I can say that going to university or college is expensive and you try to do what you can so that your child is not going to swim in debt when they are done. So I could see why this group would try to do all that they can to win this scholarship.
Upon entering everyone must give up their phones and any other electronic devices, and they will have no contact with the outside world for their test and interview. This is one of the traditions along with a long list of others. This year starts off differently because there is a protest happening and it's all about the past events of the founding father. Sadly once inside things aren't much better. Everyone is locked in Hyde House and no one can exit until the event is over. I should also mention that Hyde House is in a remote and secluded part of the university grounds.
It all starts our harmless until one of the students dies and everyone soon realizes there is a killer amount them but who? In a blink of an eye, things go from bad to worse and fingers start pointing to who it is and the group has to face some hard truths and decisions. Who is behind this and why are they doing it?
The timeline is the present day with a bit of the past when there is mention of certain characters or events.
I really enjoyed reading this intense read that had me sitting on the edge of my seat while trying to figure out who did it, why they did it, and how. I definitely want to read David's backlist titles. I really think that David's work will be my go-to with thrillers.