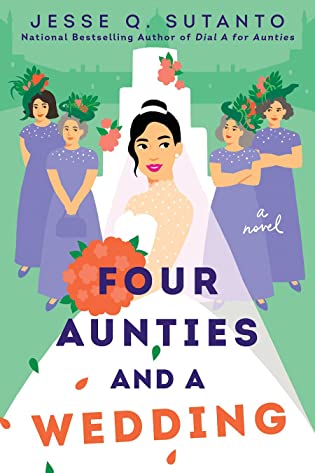 Four Aunties and a Wedding (Aunties, #2)
by Jesse Q. Sutanto
Published by
Berkley Books on March 29, 2022
Pages:
304
Goodreads
Meddy Chan has been to countless weddings, but she never imagined how her own would turn out. Now the day has arrived, and she can't wait to marry her college sweetheart, Nathan. Instead of having Ma and the aunts cater to her wedding, Meddy wants them to enjoy the day as guests. As a compromise, they find the perfect wedding vendors: a Chinese-Indonesian family-run company just like theirs. Meddy is hesitant at first, but she hits it off right away with the wedding photographer, Staphanie, who reminds Meddy of herself, down to the unfortunately misspelled name.
Meddy realizes that is where their similarities end, however, when she overhears Staphanie talking about taking out a target. Horrified, Meddy can't believe Staphanie and her family aren't just like her own, they are The Family--actual mafia, and they're using Meddy's wedding as a chance to conduct shady business. Her aunties and mother won't let Meddy's wedding ceremony become a murder scene--over their dead bodies--and will do whatever it takes to save her special day, even if it means taking on the mafia.
The aunties are back, fiercer than ever and ready to handle any catastrophe--even the mafia--in this delightful and hilarious sequel by Jesse Q. Sutanto, author of Dial A for Aunties.

Before I begin my review I quickly have to thank Berkley for providing me with an eGalley for today's review.
As soon as I finished Dial A for Aunties I quickly jumped into Four Aunties and a Wedding. This was another one that I managed to read in a sitting or two. I think you should read the first book because a storyline or two does carry over into this one. Not quite sure how many books there will be in the series or if this is a duology. I know I would personally love another book because of all the funny antics the Chan family gets involved in.
Meddy has taken part in many weddings but has never really thought about her own. One thing is for certain Nathan and Meddy know they want her aunties to enjoy the day as a family and not to have them work the wedding. As you read you can quickly see that any decision they want to make will be taken over by the aunties. Meddy was looking forward to interviewing vendors and selecting them but the aunties are one step ahead of them and they have been selected. They hired vendors that are much like themselves a family company.
Because Nathan's family lives in London they decided to do the wedding there. You know that this will be a posh kind of wedding right? Nope, not when it comes to the aunties. The aunties live up to their larger-than-life personas from the Komodo dragon fascinators to their bright and colorful gowns. They definitely will outshine the bride on her special day.
To Meddy's surprise, she really gets along well with the photographer, Stephanie that is until she overhears a conversation Stephanie is having over the phone with someone. It's a plan to take down the Queen at her wedding. But who is the Queen? She also realizes that there is more to that family than they let on. Will they be able to stop the mafia before they take the Queen down?
When Meddy confronts Stephanie, Stephanie tells her to keep her mouth shut because she knows Ah Guan (the guy Meddy killed) and to proceed with the wedding. Meddy is determined to not let anything happen at her wedding and enlists the help of the aunties to make sure the wedding runs as smoothly as it can with no one getting hurt. You from this point antics will be happening. Can the Chan family pull this off?
Without going into too many details it was nice that the storyline carried over from the first book was addressed and wrapped up.
I would definitely read more books from Jesse in the future.