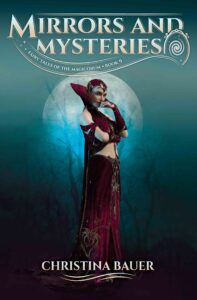 Mirrors and Mysteries (Fairy Tales of the Magicorum, #9)
Christina Bauer
Publication date: March 24th 2022
Genres: Paranormal, Young Adult
Rapunzel meets Jane Eyre in the epic conclusion of this fairy tale romance!
Grayson Eyre has left her old life behind. She's no longer stuck serving Lady R, a sadistic Rapunzel from the Lowood clan of elves. Instead, Grayson now teaches at the Thornfield home for shifter orphans. Even better, her boss is none other than the sexy alpha, Dex. It's all good until a mysterious witch, Jocasta, appears in a nearby tower, demanding that Dex and Grayson discover the true nature of all Rapunzels. If not, Lady R will return to claim Grayson… and Thornfield will be wiped out by the evil Prism Master. Can Dex and Grayson discover the truth in time? And what will it mean for their growing attraction?
Secrets are revealed and feelings explored in this epic conclusion to the story of Dex and Grayson!
Fairy Tales of the Magicorum. Modern fairy tales with sass, action, and romance
1. Wolves and Roses
2. Moonlight and Midtown
3. Shifters and Glyphs
4. Slippers and Thieves
5. Bandits and Ball Gowns
6. Fire and Cinder
7. Fairies and Frosting
8. Towers and Tithes
9. Mirrors and Mysteries
10. Love and Ether

Before I begin my review I quickly have to thank Xpresso Book Tours for allowing me to be a part of this book tour.
I have been on various tours for this series. Since being on various tours I have to say that I really enjoy reading the Fairy Tales of the Magicorum. It's sad to see that it's almost over. All the books in the series are quick and light reads. I always manage to read them in one sitting.
I love reading retellings of fairy tales and ones that bring a new twist to them. This one shows the darker side of Jane Eyre and Rapunzel. I have to admit that I have yet to read Jane Eyre and after reading this I think it's time I pick it up to read to give more context to this storyline.
Before I begin my review I should mention that you need to read the previous books to truly understand the storyline and what is going on. With that being said I will try to keep my review spoiler-free.
Each member of the Magicorum is either a shifter, a faerie, or a witch.
Mirrors and Mysteries follow Dex and Grayson. Dex is a shifter and he is the future Brutus and Grayson is also a shifter. The book opens up with Lady R (Rapunzel) who is the current Rapunzel. putting a blinding spell on Dex. After Dex is unable to break this spell and is left alone in the middle of the woods and he needs to navigate his way home. His wolf instinct kicks in and he is able to navigate his way. On his way back he stumbles into Grayson. She knows the powers of Lady R all too well and thankfully she is free of her.
Grayson is heading to Thornfield in hopes of landing a job. Dex offers her a position as a teacher to help teach the young cubs. You know that the more time Grayson and Dex spend together you know what will happen. I loved their interactions together. Dex was so patient, caring, and compassionate to Grayson. Grayson is struggling because even though she is free from Lady R, she still hears Lady R in her head. Will Grayson be able to overcome it and finally break free of Lady R? Will she be able to believe in herself?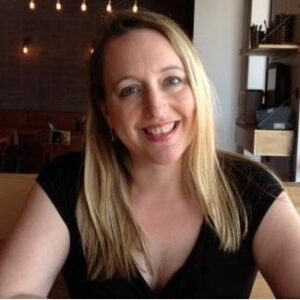 About the Author:
Christina Bauer thinks that fantasy books are like bacon: they just make life better. All of which is why she writes romance novels that feature demons, dragons, wizards, witches, elves, elementals, and a bunch of random stuff that she brainstorms while riding the Boston T. Oh, and she includes lots of humor and kick-ass chicks, too. 

Christina graduated from Syracuse University's Newhouse School with BA's in English along with Television, Radio, and Film Production. She lives in Newton, MA with her husband, son, and semi-insane golden retriever, Ruby.

Be the first to know about new releases from Christina by signing up for her newsletter: http://tinyurl.com/CBupdates
Blog: http://monsterhousebooks.com/blog/category/christina
Facebook: https://www.facebook.com/authorBauer/
Twitter: @CB_Bauer
Instagram: https://www.instagram.com/christina_cb_bauer/
LinkedIn: https://www.linkedin.com/in/christina-bauer-481b12139/
Web site: http://monsterhousebooks.com/authors/cbauer
Giveaway:
Tour-wide giveaway (INT)
A copy of Mirrors and Mysteries and more!
Paste this code in your post's HTML to share the grand prize giveaway (this giveaway is set up and managed by author, not Xpresso Tours):
Link: http://www.rafflecopter.com/rafl/display/f7ec85e742/
Tour Schedule:
March 28th
–A Soccer Mom's Book Blog>Excerpt
–Life With No Plot >> Review
–Rockin' Book Reviews >> Guest Post
March 29th
–diary of a wannabe writer >> Review
–Adventures in Writing >> Excerpt
–@chrissie_gerber_reader >> Review
March 30th
–Living in a Bookworld >> Excerpt
–Rants N Scribbles >> Excerpt
March 31st
–Angel's Guilty Pleasures >> Excerpt
–Cindy's Love of Books  >> Review
April 1st
–The Reading Life >> Excerpt
–The Avid Reader >> Review
–Westveil Publishing >> Review
—
April 4th
–Aubrey Wynne: Timeless Romance >> Excerpt
–The Book Junkie Reads . . . >> Review
April 5th
–Movies, Shows, & Books  >> Excerpt
–LenniLand >> Review
–Wottaread >> Excerpt
April 6th
–Ilovebooksandstuffblog >> Excerpt
–Books, Tea, Healthy Me >> Review
–Lynn's Romance Enthusiasm >> Excerpt
April 7th
–So Many Books, So Little Time >> Playlist
–Deborah-Zenha Adams >> Interview
April 8th
–fundinmental >> Excerpt
–Valerie Ullmer | Romance Author  >> Excerpt