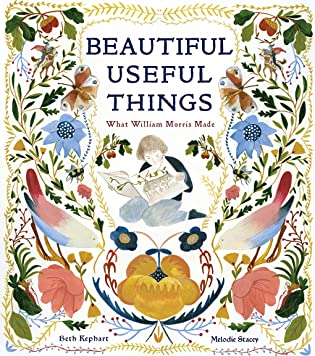 Beautiful Useful Things: What William Morris Made
by Beth Kephart, Melodie Stacey
Published by
Cameron Kids on April 5, 2022
Pages:
40
Goodreads
A poetic story about the life and work of William Morris, maker of beautiful, useful things, sure to engage young dreamers and artists alikeWilliam Morris is best known for his colorful wallpapers and textiles, inspired by the English forests and wild foliage where he grew up. But did you know this icon of the Arts and Crafts Movement was also a poet, a painter, a preservationist, an activist, an environmentalist, and a maker of many other beautiful useful things, like books?
I was able to have access to Beautiful Useful Things: What William Morris Made as an eArc from Abrams through a book event that I attended recently.
This is another gorgeous picture book. The illustrations are stunning throughout the book and the endpapers are stunning.
In case you might not know who William Morris was, he was an English designer, craftsman, poet, and early socialist whose designs for furniture, fabrics, stained glass, wallpaper, and other decorative arts generated the Arts and Crafts movement in England and revolutionized Victorian taste.
This is definitely for fans of William Morris. I found myself having to google who he was because I wanted to know more about him since this doesn't go into specifics.
Everything was beautiful to William and he took inspiration in what was around him to create his work. As he grew older and the more he saw he know that was what he wanted to add to his creations. For William his work was handmade and not mass produces so everything was unique.
I think my favorite part of the story was when he was talking about books. A time when they were made with care from the outside to the inside. He took great pleasure from the paper to the inks, to his own letters, to the stories inside them. One of my favorite things to see is the older books because you can see that nothing was mass-produced back then and it was all handmade.
This was an enjoyable read.