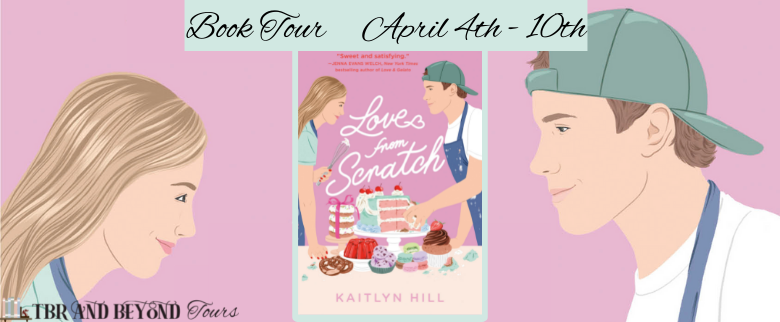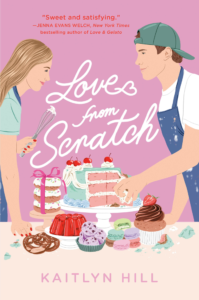 Book Info:
Love From Scratch by Kaitlyn Hill
Genre: Young Adult Romance
Publishing Date: April 5, 2022
Synopsis:
This summer, Reese Camden is trading sweet tea and Southern hospitality for cold brew and crisp coastal air. She's landed her dream marketing internship at Friends of Flavor, a wildly popular cooking channel in Seattle. The only problem? Benny Beneventi, the relentlessly charming, backwards-baseball-cap-wearing culinary intern–and her main competition for the fall job.
Reese's plan to keep work a No Feelings Zone crumbles like a day-old muffin when she and Benny are thrown together for a video shoot that goes viral, making them the internet's newest ship. Audiences are hungry for more, and their bosses at Friends of Flavor are happy to deliver. Soon Reese and Benny are in an all-out food war, churning homemade ice cream, twisting soft pretzels, breaking eggs in an omelet showdown–while hundreds of thousands of viewers watch.
Reese can't deny the chemistry between her and Benny. But the more their rivalry heats up, the harder it is to keep love on the back burner…

Before I begin my review I quickly have to thank TBR and Beyond Book Tours for allowing me to be a part of the blog tour for Love From Scratch and for graciously providing me with an ebook to read for my stop today.
Love From Scratch is a debut young adult romance book that is currently out. I think if you have to classify the book I would say it's the higher end of YA into New Adult.
A fun little fact about me but I love watching any kind of cooking show on the Food Network, especially ones that involve competition. Who doesn't like to watch chefs battle it out?
This falls right into one of my favorite tropes of enemies/rivals to lovers. This is very PG-rated in the romance department. This was a light fun cute ya romance that I pretty much devoured in a weekend. Even though it was a fun light read I should also mention that there are heavy topics being discussed. It's really sad that in this day and age that women are struggling in the workplace. Why is there still a double standard there? Why do male bosses act the way they do with women employees? Why are we treated so differently?
The book's two main characters are Reese (marketing) and Benny (culinary) both are interns for Friends of Flavour. One day at work they are asked to fill in and host a cooking video because the original hosts have to be somewhere else last minute. Unprepared they improvise thinking that it's a disaster they soon realize it's a huge hit. Which leads them to have their one show called Amateur Hours.
Amateur Hours starts out all fun but then quickly turns into a competition if either of them wants to land that job position in the fall. It's not really a fair competition because this is Benny's domain but that won't stop Reese from trying her hardest to land this job.
You definitely can feel the chemistry between the two of them as they continue to work together. I have to say I definitely could see this be adapted to a movie that I would definitely watch.
Sadly with the rise of their fame online, the haters come out but they are mostly going after Reese. I felt bad for Reese because she was the target of it and the haters were really mean and nasty towards her. This is where real life comes into play because even though this is fiction it's happening in real life. Anybody who doesn't like who you are (the way you look, dress, speak, etc) is quick to become a keyboard warrior hiding behind their screens with made-up names to type nasty things about you. Those nasty comments do hurt the person. If you have nothing nice to say to someone then don't say anything at all. It's easier to hide behind the screen and say those nasty things when you know full well that in real life you would never say those things to a person's face.
I have to say that I really like Benny between his puns and cute nicknames for Reese (I couldn't help but crave Reese's peanut butter cups while reading this) you can't help but not love him. To me, this is my idol kind of guy because he is straightforward and says how he feels. Not many guys are like that. He actually listens to Reese and cares what she has to say.
I am definitely planning on buying a finished copy of the book because I really want to reread this again.
Book Links:
GoodReads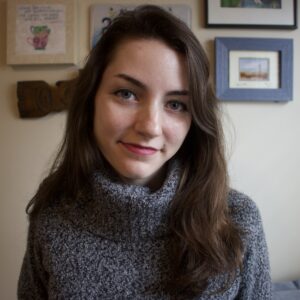 About the Author:
Kaitlyn Hill is a writer, reader, and sweet tea enthusiast who believes that all the world is not, in fact, a stage, but a romance novel waiting to happen. Her debut novel Love from Scratch comes out 4/5/22 from Delacorte Press/Penguin Random House.
Kaitlyn has a BA in Sociology/Anthropology and German Studies, which means that she can tell you way too much about the Communist Manifesto in Karl Marx's mother tongue. Before landing on writing, she worked in roles from city government intern in a small German town to Haunted Mansion Maid at Walt Disney World, and most recently, at her hometown public library.
Aside from books, Kaitlyn's favorite things are giraffes, ABBA, and excessively long naps. She lives with her real life romance hero in Lexington, Kentucky.

Author Links:
Website: https://thekaitlynhill.com/
Twitter: https://twitter.com/thekaitlynhill
Instagram: https://www.instagram.com/thekaitlynhill/
Goodreads: https://www.goodreads.com/author/show/20525224.Kaitlyn_Hill
Tour Schedule:
https://tbrandbeyondtours.com/2022/02/14/tour-sign-up-love-from-scratch-by-kaitlyn-hill/