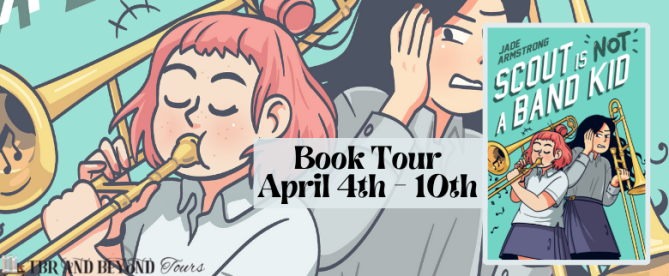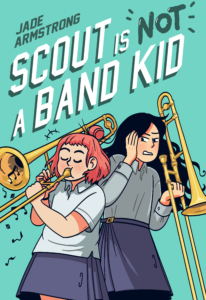 Scout is Not a Band Kid by Jade Armstrong
Genre: Middle Grade Contemporary Graphic Novel
Publishing Date: April 5, 2022
GoodReads link
Synopsis:
A young girl in middle school will do whatever it takes to meet her favorite author–even if it means joining her school band! A contemporary graphic novel about making your dream come true–and the friends you make along the way.
When Scout learns that her favorite author is doing an exclusive autograph session at the end of the year, she's determined to be there! She officially needs a plan…and when she finds out that her school's band is heading to the same location for their annual trip, an idea takes shape. Being a band kid can't be that hard, right?
As it turns out, learning how to play an instrument when you can't even read music is much, much, MUCH tougher than expected. And it's even harder for Scout when her friends aren't on board with her new hobby. Will she be able to master the trombone, make new band friends, and get to her favorite author's book signing? Tackling everything seems like a challenge for a supergenius superfriend supermusician–and she's just Scout.

Before I begin my review I quickly have to thank TBR and Beyond Tours for allowing me to be a part of this blog tour and Penguin Random House USA for sending me an eGalley of Scout is Not a Band Kid for my review stop today.
Scout is Not a Band Kid is Jade Armstrong's debut graphic novel. I didn't realize that Jade was Canadian until I read about the author. I love supporting and promoting Canadian authors and I need to do more of that.
As I was reading the book I had to google where Almonte was in Ontario as it's a place I never heard about before.
Scout is trying to figure out how she is going to meet her favorite author who is doing an exclusive book signing at the end of the year. Her father has told her no but she needs to come up with a plan. One day after school she opens up her backpack to show her friend Lou a picture she drew and a bunch of handouts fall out of her bag. She spots one of interest and this could be the answer to her prayers. It's a handout about joining the band and they will be going to the same city as her favorite author at the end of the year. The only thing is Scout doesn't know how to plan an instrument and when asked by the teacher she just picks whatever comes to mind. How will Scout pull this off?
I have to say I wish Scout's two friends would have supported and encouraged her more instead of making fun of her whenever she spoke about band. Thankfully she had Lou, who is her internet friend, who was there to encourage her not to quit because if she does then she won't make it to the author signing. Lou is also trying to tell her that lying to get what she wants isn't helping her in any way.
I loved how even though Merrin and Scout were sort of at ends and were told to tutor Scout, she did. Merrin taught her everything she needs to know about music and the trombone. Will they be able to put their differences aside? Or will Merrin tell the teacher the truth?
I think Merrin was the perfect person for Scout to have in her life. Yes, she came off a bit stand-offish at first but she was that way for a reason. She knew what she wanted and how to achieve it and to have someone do something she loves to just use it for either a credit or an end game was tough for her to handle. Plus her explaining why she never hung around made sense.
This was such a fun and quick read that I devoured it in one sitting. I don't know what the finished product will look like but my eGalley had a mix of black and white illustrations along with various colored ones. I also loved how there was bonus content at the end of the book.
I definitely need to check this out to see what the finished product looks like.
To purchase the book: 
Amazon | Barnes & Noble | Book Depository | Indigo | IndieBound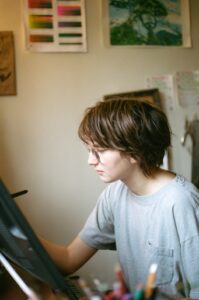 About the author:
My name is Jade Armstrong, and I am a non-binary cartoonist. I was raised in a little town called Almonte, Ontario, before heading off to Toronto to work in comics and animation. I've worked as a background painter in television for 4 years. At the moment, I float between Toronto, Almonte, and Montréal.
More than anything I love to make comics. You can check out my full CV here!
My debut middle-grade graphic novel, SCOUT IS NOT A BAND KID, is set to be published by Random House Graphics April 5th, 2022.
I'm also a member of the comics collective HELLO BOYFRIEND. We are a bunch of pals who love comics and make comics together!
Website | Twitter | Instagram | Goodreads
Tour Schedule:
Be sure to check out the rest of the tour HERE.