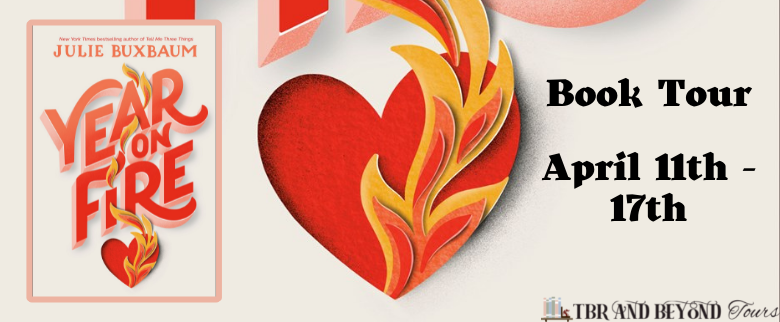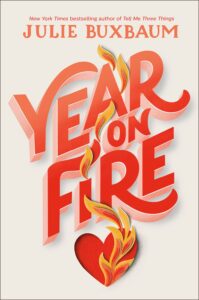 Book Info:
Year on Fire by Julie Buxbaum
Genre: Young Adult Contemporary
Publishing Date: April 12, 2022
Synopsis:
What secrets will people keep—or reveal—to protect those they love? This novel, set against the frightening backdrop of an encroaching fire season, sparks reflection about friendship, the allure of romantic love, and loyalty to family.
Can a single kiss change everything?
It was a year on fire. They fell in love. Someone was bound to get burned.
The Spark: Just days before the start of junior year for twins Arch and Immie and their best friend, Paige, a spontaneous kiss shakes the very foundation of their friendship. But some ties run too deep to be broken by accidental betrayal.
The Fuel: Enter Rohan, new to Wood Valley High by way of London, who walks into school on the first day completely overwhelmed by his sudden move halfway around the world. When Paige calls dibs on him—he's too cute to ignore—Immie is in no position to argue, certainly not after taking the fall for the disloyal kiss. Too bad for Immie that Ro feels like the best kind of familiar.
The Kindling: Former lab partners Arch and Jackson, Paige's ex-boyfriend, have never considered themselves more than friends. But sometimes feelings can grow like wildfire.
The Flames: When the girls' bathroom at Wood Valley is set ablaze, no one doubts it's arson. But in this bastion of privilege, who'd be angry enough to want to burn down the school? Answer: pretty much everyone.
Year on Fire explores the blinding power of the lies we tell others and those we tell ourselves, the tight grip of family secrets, the magic of first love, and the grounding beauty of friendship.

Before I begin my review I quickly have to thank TBR and Beyond Tours for allowing me to be a part of this blog tour and Random House Children's Books for graciously providing me with an eGalley of the book to read for my stop today.
Year on Fire takes place at an elite private school on the west coast that is centered around four characters twins, Immie & Arch, Paige (their best friend), and Rohan who is the new kid in school from London. They are all juniors.
The book begins on the first day of school, which I love when a book about schools starts then. Immie has confessed to Paige that a few days before she had kissed her then-boyfriend, but in reality, it wasn't her she is taking the blame to cover up for Arch because he isn't ready to come out yet. She knows she has betrayed Paige and is trying to make amends with her. She will basically do anything to get back in Paige's good books so when they spot the new guy, Rohan and Paige call dibs on him she lets her pursue him, even though she has a crush on him. Will they be able to mend this strained friendship?
No sooner are they into the first day of school than the fire alarm goes off and they have to evacuate the school. Someone has set fire to the girl's bathroom but who did it? The only thing is it's not a one-off situation, someone keeps setting fires inside the school. As the story progressed you discover who it is and for the most part I was spot on with my guess.
Looking at the group of four you think they have it all but behind closed doors, it's a whole other story. Rohan is struggling with his father's affair, Paige is struggling with being perfect all the time, and her parents neglect, Arch is gay and he really likes Paige's ex and Immie she wants her freedom and independence.
I am sitting here struggling with what to write because I don't want to give away everything about the book so maybe its best if I stop and say go and read this book.
After reading this all I can say is why haven't I read any of Julie's previous books? I definitely have to check out her books. Her previous books are Admission, Hope and Other Punchlines, What to Say Next, Tell Me Three Things, After You, and The Opposite of Love. The books are both young adults and adults. 
Book Links:
GoodReads
Amazon
Barnes and Noble
Book Depository
Chapters Indigo
Indie Bound
About the Author:
Julie Buxbaum is the New York Times best-selling author of Tell Me Three Things, her young adult debut, What to Say Next, and most recently, Hope and Other Punchlines. She's also the author of two critically acclaimed novels for adults: The Opposite of Love and After You. Her work has been translated into twenty-five languages. Julie's writing has appeared in various publications, including The New York Times. She is a former lawyer and graduate of Harvard Law School and lives in Los Angeles with her husband, two children, and more books than is reasonable.
Author Links:
Website: http://www.juliebuxbaum.com/
Twitter: https://twitter.com/juliebux/
Instagram: https://www.instagram.com/juliebuxbaum/
Goodreads: https://www.goodreads.com/author/show/843820.Julie_Buxbaum
Facebook: https://www.facebook.com/JulieBuxbaumNovelist
Tour Schedule:
Clear here to see the tour schedule (blogs and Instagram)