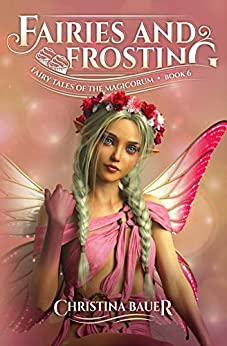 Fairies And Frosting (Fairy Tales of the Magicorum #6)
by Christina Bauer
Published by
Monster House Books LLC on July 20, 2021
Pages:
200
Goodreads
"Took me by storm! From start to finish I was pulled into this world of fairytale templates and magic!" - Dairy of a Wannabe Writer
At last, Elle (never call her Cinderella) is reunited with Alec, the Prince of Le Charme Jewelers. Yay! But the pair soon discovers that Alec's gemstone empire is about to go bankrupt. Boo. So our favorite couple devises a kick-ass scheme to save Le Charme. To announce their plan, Elle and Alec will hold a Glass Slipper Festival complete with music, dancing and cake. Lots of cake.
There's only one problem.
The Unseelie fae have returned.

Talk about bad news. No one combines lovely looks with dark intentions better than the Unseelie. Now, those nefarious fae want to destroy Elle, Alec and any hope for Le Charme. It doesn't end there, either. The Unseelie are also targeting Elle's stepsister, Agatha, as well as her old friend, Jacoby. And when will the Unseelie launch their deadly schemes? The Glass Slipper Festival.
Because fairies and frosting don't mix.
"I thought the Angelbound series was my favorite, but Fairy Tales of the Magicorum may have stolen my heart." - Smada's Book Smack Blog
FAIRY TALES OF THE MAGICORUM1. Wolves And Roses2. Moonlight And Midtown3. Slippers And Thieves4. Shifters And Glyphs5. Bandits And Ball Gowns6. Fire and Cinder7. Fairies and Frosting
Thank you Expresso Book Tours for allowing me to be a part of today's blog tour for Fairies and Frosting by Christina Baur which is the seventh book in the Fairy Tales of the Magicorum series. Also thank you for providing the Fairy Tales of Magicorum series as well. I plan on binge-reading this series and reviewing it very soon. So please check back to see those reviews.
The other books in the series are:
1. Wolves And Roses
2. Moonlight And Midtown
3. Slippers And Thieves
4. Shifters And Glyphs
5. Bandits And Ball Gowns
6. Fire and Cinder
7. Fairies and Frosting
8 Towers and Tithes
I have to admit that when I got the email asking if I wanted to be a part of this book tour I instantly jumped on board because the cover hooked me right away. I think it's really pretty. Don't you? I am a sucker for a pretty cover when it comes to books.
I read Fairies and Frosting without reading the previous books because silly me thought they were a series that you could read as a stand-alone and you actually can read it as a stand-alone if that makes sense? Although I do think you should really read the previous books to fully imagine the world that Christina has created.
You are probably saying Cindy, you read a fantasy book, you never read fantasy. I know right? I was actually surprised that I wanted to read this and the series. I think that may be for me because it wasn't a super heavy fantasy I was able to enjoy it. If that make sense?
I really enjoyed Fairies and Frosting. It was a quick, fun, and interesting read. Plus having it take place in New York City was the frosting on the cupcake for me. I was instantly hooked from the beginning and managed to read it pretty much in one sitting because of the fast pace. The flow of the book was there and for me, I pretty much wanted to see what was going to happen throughout the story because of the way it was told.
I should also say that there is a little romance there between our main character Elle (Cinderella) and Alec. The romance between the two is very sweet and feels real.  If you haven't guessed that this is a retelling of Cinderella and instead of this ball that the original story has, Fairies and Frosting has the Glass Slipper Festival.
The book is told from alternating points of view from both Elle and Alec so you get the dual perspective of the story.
Writing this review is a little hard for me because I don't want to go into too much because it is part of a series that sort of continues book to book and I feel if I say too much it could spoil it if that makes sense. So what I will say is that Alec is the Prince of Le Charme jewelers and soon realizes that he is going to be bankrupt. Doing everything that he can to save Le Charme jewelers is a priority for him and Elle. They come up with a plan that could save the business and this is where the Glass Slipper Festival comes in.
It's not going to be as easy as it seems as you soon discover. Will they be able to pull off the Glass Slipper Festival and save Le Charme Jewelers or will the powers that be take over?
I should also say that I read the ebook version and I was pleasantly surprised with the addition of photos/artwork that was in the book. It was a nice additional aspect to the book. One, in particular, was when Christina was describing the Apex Towers. Yes, I could visualize it but my vision was nothing like the authors. The artwork is beautiful. I am even contemplating purchasing the physical copies of this series for this reason.