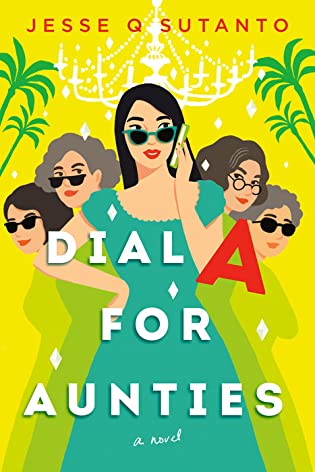 Dial A for Aunties
by Jesse Q. Sutanto
Published by
Berkley Books on April 27, 2021
Pages:
302
Goodreads
When Meddelin Chan ends up accidentally killing her blind date, her meddlesome mother calls for her even more meddlesome aunties to help get rid of the body. Unfortunately, a dead body proves to be a lot more challenging to dispose of than one might anticipate, especially when it is inadvertently shipped in a cake cooler to the over-the-top billionaire wedding Meddy, her Ma, and aunties are working at an island resort on the California coastline. It's the biggest job yet for the family wedding business—"Don't leave your big day to chance, leave it to the Chans!"—and nothing, not even an unsavory corpse, will get in the way of her auntie's perfect buttercream flowers.
But things go from inconvenient to downright torturous when Meddy's great college love—and biggest heartbreak—makes a surprise appearance amid the wedding chaos. Is it possible to escape murder charges, charm her ex back into her life, and pull off a stunning wedding all in one weekend?
What happens when you mix 1 (accidental) murder with 2 thousand wedding guests, and then toss in a possible curse on 3 generations of an immigrant Chinese-Indonesian family?
You get 4 meddling Asian aunties coming to the rescue!
Did you ever read a book and say to yourself why didn't I read this sooner? Well, that was the case for me with Dial A for Aunties. Not sure why I never picked it up sooner.
Dial A for Aunties is  Jess Q. Sutanto's debut novel. I am not sure if this is a duology or if it will be a series. I really hope it might be a series because I loved the aunties and the antics they get into. The second book is Four Aunties and a Wedding and it will be released tomorrow.
Once I started to read this I couldn't put it down and devoured it pretty much in a day. This was such a fun and enjoyable read. I was laughing pretty much the entire time I was reading it. It was pretty much if anything could go wrong it did. I couldn't help but think of the movie Weekend at Bernie's when I was reading this. If you saw the movie you will know what this book is about.
Our main character is Meddelin and she has never really gotten over her first true love. Her mother or her aunts ( she has three) have no idea she was even in a relationship back in college. She is always trying to keep everyone happy including her mother. Meddy's mom just wants her daughter to be happy and to have grandchildren. So, when she sees that's not happening she steps in and sets her daughter up on a blind date through a dating site. Meddy agrees to go on this date but afterward instantly regrets it because of the mixed communication. He was led to believe that more was going to happen on this date. This is where Meddy accidentally kills the guy.
Panicking and not sure what to do she goes home and tells her mother who in turn calls the aunties for help to get rid of the body. Running low on options because the family has to a huge wedding the next morning to get ready for. The family is vendors in the wedding business (photography, hair/make up, florist, baker and entertainment) so they quickly decide to stuff the body in a huge cooler and store it in the fridge at the bakery to deal with later. If your like me you know that this isn't going to go right and it didn't because that cooler they buried in the fridge accidentally gets delivered to the wedding venue. From this point on they are trying to keep the cooler out of site without drawing attention themselves. Will they be able to pull this off?
Not only is Meddy trying to deal with keeping this cooler hidden and working this wedding but to complicate things more, Meddy is in for a suprise when she bumps into her former college, one true love ex. Will she be able to make it through the wedding? Or will her ex get in the way? Will they get away with murder?
I really enjoyed reading this. I was hooked from start to finish. This is one book where I loved all the characters. It was nice to read this family dynamic and how no matter what was going on they were there for each other. How they managed to pull this wedding off was beyond me.
I definitely see me rereading this one again.