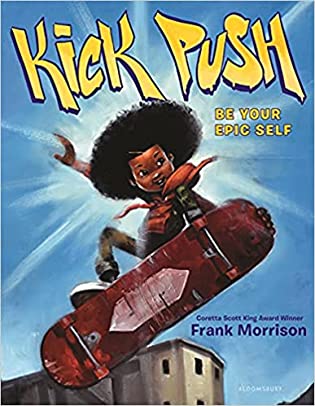 Kick Push
by Frank Morrison
Published by
Bloomsbury Children's Books on March 29, 2022
Pages:
40
Goodreads
Award-winning picture book creator Frank Morrison makes his author/illustrator debut in an exuberant story about being yourself.
Epic has tricks you won't believe. He's the kick flipping, big rail king. When his family moves to a new neighborhood, he can't wait to hit the street with his skateboard. But his old moves don't feel fresh without a crew to see 'em. Epic thinks about giving up his board to fit in, but an encouraging word from his dad helps him see that the trick to making new friends is to always be yourself. Be you. . . be epic!
Award-winning illustrator Frank Morrison offers a heartwarming, dynamic celebration of self-expression, inspired by his own journey through fatherhood.
I quickly have to thank Bloomsbury Children's Books for granting me early access to Kick Push.
I have to say that I love the illustrations in the book, they are bright and colourful and you definitely get drawn in the book by them.
Ivan AKA Epic because of skateboarding skills amongst his friends has moved to a new neighbourhood. He soon realizes how much he misses his old friends when he struggles to make new friends. He wants to toss his skateboard to the side because it's not fun doing all the things you use to if you have no one to share it with.
He tried everything such as soccer, basketball, football, etc to fit in with the neighborhood kids but nothing worked. Then his dad told him to take one more skateboard ride. He did and he has so much fun and that's all it took for him to stumble upon some new friends who were also skateboarders. He finally found what he was looking for.
This was such a beautiful picture book with a beautiful meaning. I would definitely recommend this one.