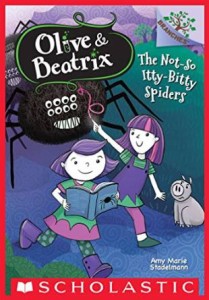 Olive & Beatrix: The Not So Itty Bitty Spiders
Series:
Olive & Beatrix Book #1
Format:
eARC
on August 26, 2015
Pages:
80
Meet twin sisters Olive and Beatrix! One is a witch. One is totally not-a-witch.
This series is part of Scholastic's early chapter book line called Branches, which is aimed at newly independent readers. With easy-to-read text, high-interest content, fast-paced plots, and illustrations on every page, these books will boost reading confidence and stamina. Branches books help readers grow!
Twin sisters Olive and Beatrix don't often get along. Olive is "ordinary" and loves science. But Beatrix is a witch! She has a brain full of tricks, and she uses her magic powers to play pranks on Olive and her best friend, Eddie. In this first book, Beatrix ruins Olive and Eddie's latest science project. So Olive and Eddie play a prank on Bea. They rig up a bucket of spiders over her bedroom door. But when the spiders crawl into one of Bea's magic potions...WHAM! Giant spiders are on the loose! These sisters will have to work together to shrink the not-so itty-bitty spiders down to size!
I received this book for free from publisher/pr firm in exchange for an honest review. This does not affect my opinion of the book or the content of my review.
I picked up this cute little book from #BEA15 this year.
This is the perfect book for the kids who are just a little too old for picture books but yet a little too young for chapter books. The book has some great illustrations that go along with the story really well.
I loved Olive & Beatrix. They were cute girls who loved to play off each other. Beatrix is the witch and loves playing all kinds of tricks on her sister and Olive is just your regular girl who is getting a little tired of being the one getting pranked on so with the help of her friend they set out to prank Beatrix. While Olive be able to pull it off?
This is the first book in the series and I have to say it was a fun and very quick read. We really enjoyed it and are looking forward to the other books in the series.