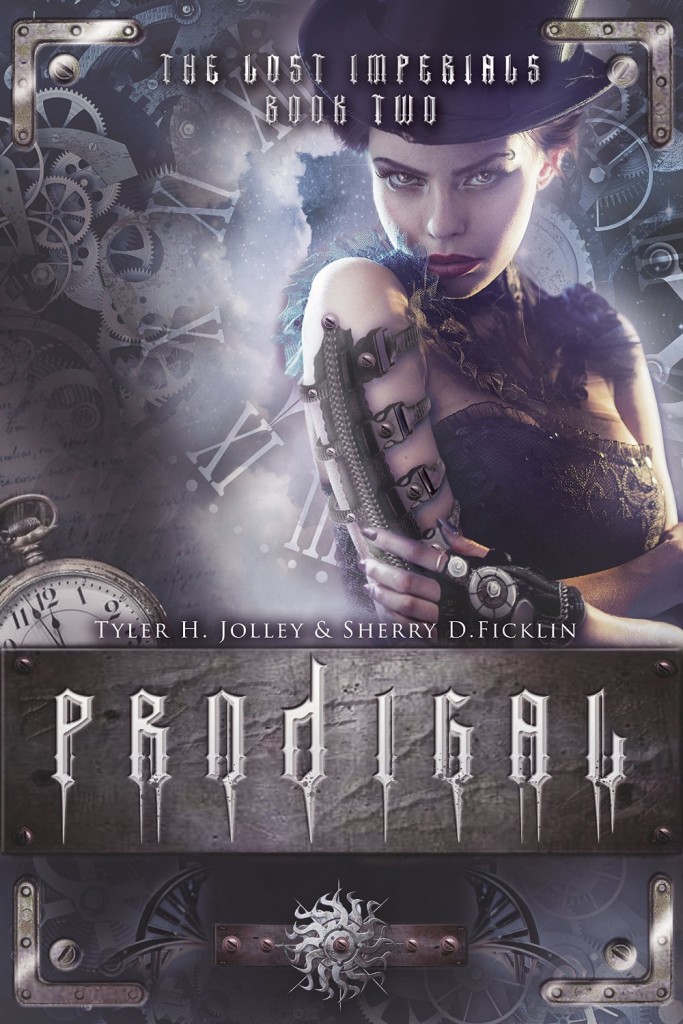 Prodigal & Riven
Series:
The Lost Imperials #2 & #3
Format:
Paperback
on May 5th, 2015
Pages:
157 & 197
Prodigal Book 2:
Two journeys. One inescapable outcome. No time to lose.
Stein has been with the Hollows for as long as she can remember. Taken as a child, she has no memories of her past—and that's always been fine by her. Until the day she stumbles across a hidden journal containing the devastating truth about her paternity. Now everything she thought she knew—and everyone she thought she could trust—has changed. The truth about who she is and where she came from is a secret so deep, it will rock the Hollows and the Tesla Institute alike.
During a test to verify her bloodlines, Stein makes a terrible discovery. She is carrying a rare genetic mutation that is slowly killing her. Unsure who to turn to and running out of time, she has no choice but to turn to Tesla—her most hated enemy—for help. But can she trust the man who she's been fighting against her whole life, or will she end up another piece in his deadly game of cat and mouse with the people who betrayed her so long ago?

Riven Book 3:
Two journeys. One inescapable outcome. No time to lose.
What should be a routine mission leaves Ethan with a serious problem. He's fractured—a break between mind and body that leaves him at the mercy of his Rifter abilities, which are quickly tearing him apart. He will have to trust the only person who might know how to fix him, a mysterious Rifter named Stewart Stills, who seems to have a special connection with the time stream.
Forced to face his dark past and a decision he may never forgive himself for, he will be trained unlike any of the others, to become a true guardian for time. If he accepts, it will mean leaving everyone he loves behind. If he refuses, time itself could unravel. After a glimpse of the dark future awaiting them all, he will have to choose between destiny and desire. Will he rise up and take his place as a defender of the natural order, or will he watch as all of time burns at the hands of the girl he loves?
Welcome to the time war.
I am so thrilled that I was able to stop by the Clean Teen booth to pick up a signed copy of Prodigal & Riven by two of my favorite authors Sherry Ficklin and Tyler Jolley and I was lucky enough to get to spend some time with them. They are two of the most awesome authors out there.
As per BEA tradition this was the book I packed with me to read on the train ride home. If you recall from my previous BEA (2013) I was lucky enough to have met Sherry and Tyler at a breakfast their publisher had put on for selected bloggers. I was lucky enough to have sat near them and they spoke about  their first book, Extracted and I'm not going to lying this wasn't a genre I have read or had an interest in but listening to them both speak about the book I knew I had to read it and I don't regret it. I read this book on the train ride back to Montreal and I loved it.
Prodigal and Riven were on my top ten list of books that I must get at BEA or die trying to get. Thankfully I was able to get a copy but it was so hard to hold off on reading this while I was in NYC because I really wanted to dive in and see what was happening.
I won't get into to much of a review because I don't want to give it all away since this is book 2 and 3 in the series.
Prodigal picks up right where Extracted ended. Stein discovered a journal from Tesla on her last mission. She probably wouldn't have paid much attention to it had it not been for the emblem on the front of it. Its the same emblem she has on her navel. Curious about it she grabs it. She begins to question her past. With a simple blood test it will uncover who she really is. Will this provide her the answer she needs or wants to know?
I love how Prodigal was more about Stein because she was a favorite of mine from Extracted. She is this feisty nothing is going to stand in my way kind of character. She is that strong girl you want to me.
I was so happy that this was actually a flip book because Prodigal ended in a cliff hanger and I couldn't imagine having to wait for Riven to come out. I probably would have stalked written Sherry and Tyler and begged them for book 3.
Thankfully having Riven on hand I was able to dig right into book 3 because other wise I might have gone ballistic on the train which would not have been good since there was already at least one wack a doodle on the train.
Riven is the extension of Prodigal and it tells Ethan's side of the story of the events that have just happened. It was nice to discover more about Ethan since not alot of information about him was given. I really like Ethan. He is probably the kind of guy I could see my crushing over. I loved learning about his past and I think it made him who is today.
Riven gives a little bit more information about the time stream and how important is was.
I loved the friendship between Stein, Ethan, Ember, Lex, Nobel, Stills and Sissen. They stuck together and they had each other's back which is my definition of a true friend. I can't wait to discover more about these characters because they all have a story to tell.
I don't know how I am ever going to wait for book 4 to come out. The suspense is killing me.
I loved both of these books and they were so much fun to read. I had to hold myself back from just breezing through the book because I know I could have but I wanted to savour the story and I didn't want it to end.
If you are a fan of steampunk and/or futuristic then you would probably enjoy these books. I can't recommend these two authors enough. You will fall in love with their writing style, characters or world. As I was reading this I could only imagine the world they had created.