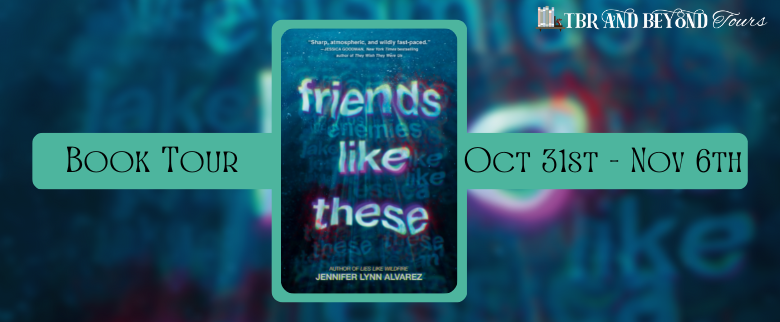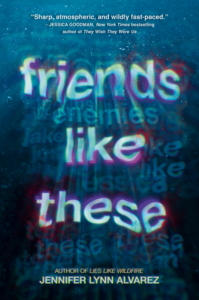 Book Info:
Friends Like These by Jennifer Lynn Alvarez
Genre: Young Adult Thriller
Publishing Date: November 1, 2022
Synopsis:
Twisted secrets that will have readers guessing with every flip of the page. Perfect for fans of GONE GIRL and Karen M. McManus.
Tegan Sheffield's annual end-of-summer beach party is the only way to start their senior year. At least that's what Jake Healy tells his girlfriend Jessica Sanchez.
But when a video prank from the party goes viral and a body is discovered at the beach, Jake and Jessica find themselves at the centre of a national media storm and a police investigation.
It's a race to uncover the truth before the killer strikes again.
Content Warning: Toxic friendships, sexual assault, rape, mentions of various types of abuse
Book Links:
Goodreads: https://www.goodreads.com/book/show/59811806-friends-like-these
Amazon: https://www.amazon.com/Friends-Like-These-Jennifer-Alvarez/dp/0593309677/
Barnes & Noble: https://www.barnesandnoble.com/w/friends-like-these-jennifer-lynn-alvarez/1140956747
Book Depository: https://www.bookdepository.com/Friends-Like-These-Jennifer-Lynn-Alvarez/9780593309698
Indigo: https://www.chapters.indigo.ca/en-ca/books/friends-like-these/9780593309674-item.html
IndieBound: https://www.indiebound.org/book/9780593309674

Before I begin my review I quickly have to thank TBR and Beyond Tours for allowing me to be a part of this tour and for graciously providing me with an eArc of the book to read for my tour stop today.
This is Jennifer's second thriller. Her previous thriller was Lies Like Wildfire and if that is anything like what I just read then I definitely need to pick it up to read. These are stand-alone books.
This was one heck of a roller coaster ride. So many twists and turns you didn't know what was coming next. I thought at one point I knew what was going on and quickly realized that I was completely wrong. I really enjoy books like this, books that keep you on the edge of your seat wondering who did it and then being blindsided in the last quarter of the book, wondering how did I miss that? In the end, Jennifer wraps everything up leaving nothing unanswered, everything gets explained and why it happened. I actually like when things are gradually revealed instead of it all happening at once.
Once I started I had a hard time putting this down and pretty much read it in one sitting which is pretty typical for me when it comes to psychological thrillers.
The book is told from three points of view, Jessica, Jake, and Tegan. They are all high school students enjoying their last year of high school. What better way to end the summer and start their last year than a killer summer house party.
Jessica is your basic high school girl who is focused on getting good grades and getting into a great college and her boyfriend, Jake is the exact opposite, he is enjoying life. Jessica isn't that party girl like Jake wants her to be. My only beef with Jake was I found him to be a bit clingy with Jessica. Yes, she was there when he lost his dad and he break up with Tegan.
Jake manages to convince Jessica to go to Tegan's party which is the last thing she would rather do. Jake convinces her saying they will just stay for a little bit and he won't drink. Sadly he does the exact opposite. She and Tegan don't have that friendship like they did years ago when they were kids. Jake is Tegan's ex and let's just say that Tegan isn't over Jake (everyone knows this) and will do just about anything to get him back. This was another thing that I didn't like about Jake, he couldn't even keep his promise to Jessica about not drinking. Did he really care about Jessica?
What happens next makes you wonder that. From that point on things get worse and turn into the night from hell. What was supposed to be a fun summer wrap-up party turns into something much worse and rocks everyone's friendships. A viral video goes wild, someone goes missing, and police and the FBI get involved.
The actions from this night will change the course of everything for those involved. There is no going back from that night.
Friends like this who needs enemies is what I kept thinking throughout the book. With that being said I would definitely read Jennifer's future books. If you like a really good psychological thriller then I recommend this one, I don't think you will be disappointed.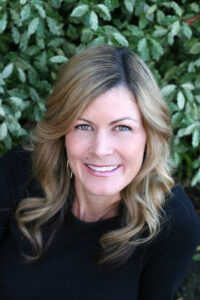 About the Author:

I received my B.A. in English from the University of California at Berkeley. I'm fascinated by underdogs and power dynamics between groups of people.
I'm the author of LIES LIKE WILDFIRE, a teen thriller soon-to-be published by Delacorte Press, and two middle grade book series, each published by HarperCollins Children's Books, THE GUARDIAN HERD (a quartet) and RIDERS OF THE REALM (a trilogy). Before this, I self-published a middle-grade fantasy called THE PET WASHER.
When I'm not writing, you'll find me galloping my little black mare through the foothills of Sonoma County or teaching free creative writing workshops to kids and adults at various branches of our local library system.
The Healdsburg Literary Guild selected me as their 2019/2020 Literary Laureate for my work in building literacy in my community. It is an honor I hold dear. I am also the current SCBWI Sonoma County Coordinator and a volunteer on the Sonoma County Library Advisory Board.
​I live in Northern California with my husband, three children, and more than my fair share of pets!
Author Links:
Website: https://www.jenniferlynnalvarez.com/
Twitter: https://twitter.com/JenniferDiaries
Instagram: https://www.instagram.com/jennifer_lynn_alvarez/
Goodreads: https://www.goodreads.com/author/show/5348132.Jennifer_Lynn_Alvarez
Facebook: https://www.facebook.com/JenniferLynnAlvarez/?ref=hl
YouTube: https://www.youtube.com/channel/UC50LaHt4Uj4Vhn2nRTWxgmg
Pinterest: https://www.pinterest.com/jendiaries/
Tour Schedule:
https://tbrandbeyondtours.com/2022/10/04/tour-schedule-friends-like-these-by-jennifer-lynn-alvarez/