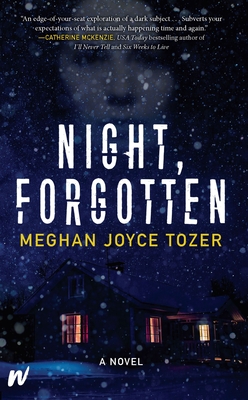 Night, Forgotten
by Meghan Joyce Tozer
Published by
W by Wattpad Books on November 1, 2022
Pages:
320
Goodreads
A dramatic and undeniably addictive psychological thriller about a young woman whose life changes in an instant, and nothing is ever the same.

Before
. . .
Life is idyllic for Julie Dolan and her husband Owen. They've bought their dream house in the Berkshires; their careers are on the upswing; and they have the world at their fingertips. They've never been so in love. They've never been happier. The only thing that's missing is a baby--but Julie's got a plan, and they're right on schedule.
Until Owen falls ill with food poisoning, leaving Julie to attend a neighborhood holiday party alone. When she wakes up, half-naked in her neighbor's bathtub, Julie doesn't know how to tell Owen, the police, her friends--anyone--that she has been sexually assaulted. So she keeps it secret until she realizes that she's pregnant with her assailant's baby.

After
. . .
Life is unmanageable for Julie. She can't function in the world with a newborn, and she's unable to be present for her husband, her family, her friends. Desperate to solve the mystery of what happened to her, Julie's driven to more and more erratic behaviour, until the truth about that night is revealed. Afterward, no one will be the same ever again. Not Owen. Not the baby. And especially not Julie.

Before I begin my review I quickly have to thank Wattpad Books for graciously reaching out to see if I would be interested in reading and reviewing Night, Forgotten by Meghan Joyce Tozer.
This is her debut novel and if her future books are anything like this then I will definitely be picking them up to read.
I was instantly hooked from the get-go and breezed through this fairly quickly. This was definitely a sitting-on-the-edge-of-my-seat kind of book. I do have to admit the ending was shocking. I did not see that happening.
The book is told by our main character Julie. It's told in before and after format which adds to the story. Julie first met Owen while she was waiting for her best friend to pick her up after she crashed her car one stormy night. The reason for her crash was she had just found out her parents were killed in a plane crash. Julie has never really had a loving bond or connection with her parents and she has struggled with that for many many years. She is worried that she will turn exactly like them.
Owen comes from a very catholic family where he goes to mass every Sunday with her mother. She is not too thrilled that Julie and Owen eloped. She has always wanted to plan a church wedding.
For Owen and Julie, are successful in their careers and found their beautiful home but for Owen, the only thing missing is a baby. Julie tries to put it off for fear she will be exactly like her mother. She has a plan and it's on schedule until one night they are invited to a neighbors for a holiday party. Owen ends up getting very sick and opts to stay home so Julie goes ahead. That night forever changes things in Julie's life.
Julie struggles with her life from that night of the holiday party. She is trying to put things together and remember what happened from the time she arrived to the time she woke up. She is unable to be there for Owen. She needs to figure out what exactly happened that night. Will Julie be able to uncover what exactly happened?
I could talk about this book for days but I have to stop because I don't want to spoil it for you. If you are looking for an edge-of-your-seat psychological thriller then I have to suggest this. I don't think you will be disappointed.