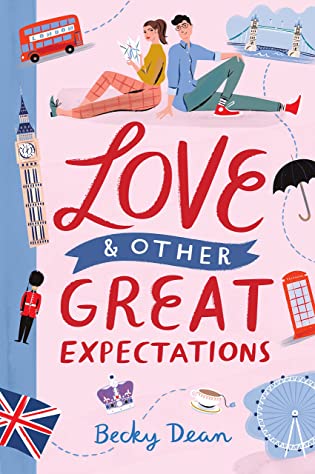 Love & Other Great Expectations
by Becky Dean
Published by
Delacorte Press on June 14, 2022
Pages:
384
Goodreads
An American girl embarks on a competitive scavenger hunt in England—and along the way, meets up with a bookish British boy who can't help her with the clues . . . but might make the trip take some unexpected turns.
Britt Hanson has always preferred scoring goals on the soccer field to analyzing dusty old books. But when an injury ends her dream to play in college, she jumps at the chance to compete in a scavenger hunt in England that takes her to the locations of classic novels—the prize money would change her life!
There she meets bookish and very British Luke Jackson. He can't actually help her with any of the clues (against the rules), but something about Luke compels her to invite him to join her. She wouldn't mind getting to know him—and listening to his accent.
To win, Britt must outwit three smart competitors who aren't afraid to play dirty while solving clues and traveling around the English countryside. Along the way, Britt learns that sometimes you have to follow the map and other times, you need to throw caution to the wind and see where the cobblestoned road takes you.

Before I begin my review I quickly have to thank Penguin Random House for graciously providing me with an eGalley of this debut YA contemporary romance.
I did notice on Becky Dean's website she has announced upcoming titles and they are Picture Perfect Boyfriend (Summer 2023), Heart Overboard (summer 2024), and an untitled book coming in the summer of 2025, Something to look forward to.
I was instantly hooked and couldn't stop reading this. I mean it contains all of my favorite things, the UK, a scavenger hunt, books, a little romance, a road trip and so much more. I was surprised at how fast I breezed through the book. It was definitely a fun quick read. I would definitely read future books from Becky.
Love & Other Great Expectations is told from the point of view of the main character Britt. Britt and three other classmates (Peter, Spence, and Amberlyn)  are presented with a once-in-a-lifetime opportunity from their English teacher to spend a little over a week in the UK and a chance to win $100.000. The four are going on a literary scavenger hunt all across the UK. They are each assigned a chaperone to shadow them. They must do this on their own with no help from anyone.
The book focuses more on Britt than the other characters. Britt was living the perfect life, she was playing soccer and was accepted into UCLA (one of the best places to go for soccer) on a scholarship until she had an accident that left her to have surgery and to uncover an underlining issue. This has forced her to no longer be able to play again. She hasn't told anyone yet about this. One thing about Britt is that she is a people pleaser, she doesn't want to disappoint anyone. Britt knows she needs to win this competition if she wants any chance to go to college. Will this journey make her come clean and reveal what she is hiding and will she decide what to do with herself afterward?
As the book begins there are clues related to books they had read in their English class, that involve works of the classics. I tried to play along and I didn't do so great mainly because of the classic they mentioned I hadn't read and after reading this I definitely need to do better. Britt meets Luke at her first clue and they instantly hit it off. Luke is probably every book lover's dream because he was a reader and enjoyed reading. I loved their interactions throughout the book.
It was interesting to read how everyone around each other and what they would do to win this competition. It just goes to prove that when money is involved anyone and everyone will play dirty to win but does that include Britt?
I was curious throughout the book why the English teacher picked those four students, they were all deserving of it but why them?
Who will win this competition and what will they do with the money?
I think the only negative thing I have to say is that I wish there was more about Amberlyn (they were best friends until grade 6), Peter (someone she knew growing up), Spence, and Alexis (her chaperone). I know they were secondary characters in the book but I would have liked a little more on them.
I love being able to read books with a road trip aspect because given the current situation I am unable to travel like I would love to so this is the next best thing and to add an element to the story I was googling the places they were. Granted it's not the same thing as being physically there. This is the whole setting of the book is on my bucket list of places to see one day.