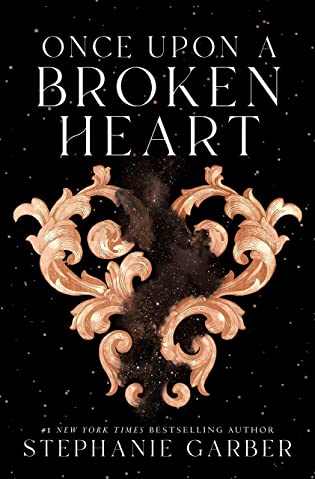 Once Upon a Broken Heart (Once Upon a Broken Heart, #1)
by Stephanie Garber
Published by
Flatiron Books on September 28, 2021
Pages:
408
Goodreads
How far would you go for happily ever after?
For as long as she can remember, Evangeline Fox has believed in true love and happy endings . . . until she learns that the love of her life will marry another.
Desperate to stop the wedding and to heal her wounded heart, Evangeline strikes a deal with the charismatic but wicked Prince of Hearts. In exchange for his help, he asks for three kisses, to be given at the time and place of his choosing.
But after Evangeline's first promised kiss, she learns that bargaining with an immortal is a dangerous game—and that the Prince of Hearts wants far more from her than she'd pledged. He has plans for Evangeline, plans that will either end in the greatest happily ever after or the most exquisite tragedy. . . .

I have to admit that I have yet to read the Caraval series by Stephanie Garber and I own them, so I have no reason not to read them, right? But that will soon be rectified because I am starting the first book, Caraval this week. I should mention that you don't need to read the Caraval series to read this, which I discovered. This is a companion to the Caraval series. As I was reading I never felt like I was missing something or that anything went over my head. If that make sense?
I have to say one thing I love about Instagram is connecting with other book lovers and having a friendship with them. One person, in particular, mentioned wanting to read Once Upon A Broken Heart and was looking to do a buddy read. I instantly joined because I have been in a group read with her before. I love doing a buddy read or a group read because it's nice to have someone to talk to about the book. Plus it encourages me to step outside my comfort zone with books.
Once Upon A Broken Heart was definitely outside my comfort zone. As you can probably tell I don't read fantasy books and I think that's because I could never get into them no matter how many times I tried, until now. Will I continue reading fantasy? Perhaps, we shall see. I do know that I want to continue reading Stephanie's books.
Before I begin my review I just have to comment on how gorgeous the cover is. I am also on the hunt for the pink cover edition of this book. If you know me you know I don't own multiple copies of a book (except my Anne of Green Gables collection) but this I am making the exception for. I know when The Ballad of Never After comes out I plan on buying both cover (purple & black) editions. Does anyone know where I can get the pink edition of this book?
Once Upon A Broken heart is the first book in the series. I absolutely fell in love with the book as I was reading it. Stephanie does an absolutely amazing job with world-building and characters. I was instantly hooked and could barely put the book down. I was surprised at how fast I read it. I think to date that this is the most tabbed and highlighted book that I own.
I should mention that there are a few scenes in the book that were pretty intense and by pretty intense I mean "did it just get hot in here or is it just me". Nothing is graphic.
I found out that Jacks was a character in the Caraval series so that book follows him. In case you didn't know Jacks is one of sixteen Fates ( I should mention that all Fates are jealous and possessive) and he is known as the Prince of Hearts.  He is a Fate whose kiss is deadly to all but his one true love. Will he ever find her?
Another main character is Evangeline. She grew up working in her father's Maximilian's Curiosities, Whimsies & Other Oddities store. When Evangeline's mother passed away her father was looking to marry someone because he didn't want her to be alone. (I instantly got Cinderella vibes here.)
As the book started I loved Evangeline but there were a few times I didn't like her (if you read the book you might discover those times). She was that girl who grew up believing in fairytales, one true love, and HEA (happily ever afters)  as most of us do, until the guy she loves, Luc announces that he is going to marry her stepsister, Marisol. She is confused because Evangeline and Luc were going to announce they were engaged. What had happened during that time? Has someone put a curse on him?
Evangeline needs to stop this wedding and ends up making a deal with the devil AKA the Prince of Hearts. All he wants in return is for Evangeline to kiss three people of his choosing and he determines where/when they will happen. Figuring she has nothing to lose she accepts because you know Evangeline believes nothing bad could really happen right? But little does she know doing this will put her on a whole other course that will make her rethink things.
I have to say that I thoroughly enjoyed this and I definitely want to keep reading future books from Stephanie. The world-building was beautiful the pacing was perfect. There was twist and turns. The characters were perfect. There was a little romance. There were some steamy scenes. What more can you ask for  in a book?