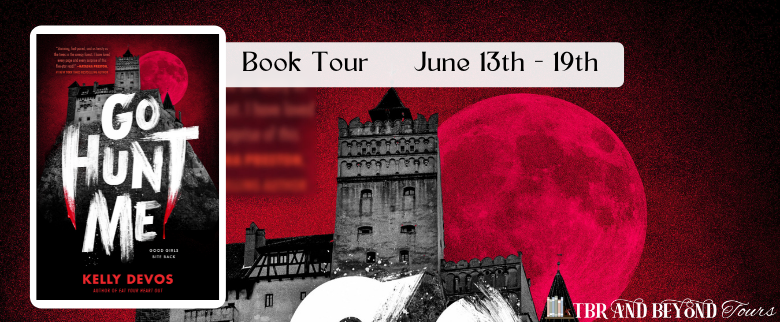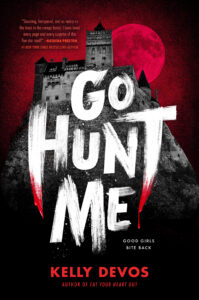 Title: Go Hunt Me
Author: Kelly DeVos
Publication Date:  June 14th, 2022
Genre: Young Adult Horror
About the book:
For Dracula lovers and fans of Diana Urban's All Your Twisted Secrets, this spine-tingling thriller follows seven horror buffs as their dream trip to a remote Romanian castle turns into a nightmare when they begin to be killed one by one.
Alex Rush is ready for the trip of a lifetime.
She and her friends have made some creepily awesome films together throughout high school, so with only a few months left before they go their separate ways for college, they're determined to make the best one yet: an epic short film that reimagines the story of Dracula, filmed on location at a remote castle in Romania.
But when they get there, it's not quite the majestic setting they planned for. Menacing weapons line the walls, the twisted halls are easy to get lost in, and with no connection to the outside world, the group is unexpectedly off the grid. After just a few hours spent under its roof, Alex and her friends have no trouble imagining how this dark, terrifying castle inspired one of the most enduring horror novels of all time.
Only soon they no longer have to use their imaginations to understand the location's terrifying history—just as they get the film's first shot rolling, one of Alex's friends disappears, and she's nearly certain she saw a cloaked stranger lurking in the shadows. As more members of the group begin to meet an untimely demise, Alex is desperate to stop the bloodshed, even if it means facing a monster she never thought would be let loose.
Content warnings: Some discussion of sexual harassment and abuse, death, violence, gore

Before I begin my review I quickly have to thank TBR and Beyond Tours (you can click HERE to see the tour schedule)
This is Kelly's second book, and her debut was Fat Girl on a Plane. I definitely need to pick it up because it's been on my TBR since it came out.
When I first saw this in my email I was intrigued by it and decided I needed I wanted to read it. I was looking to mix up my reading a little bit. I would say that this is a YA Horror/Thriller kind of book.
I have to say I was slightly confused in the beginning and then it all began to make sense after that. I should just quickly mention that there are no vampires in this book.
I did enjoy this and I kept saying WTH am I reading for a good part of the book. I also hand plenty of WTH moments. As much as I wanted to read this in one sitting I wasn't able to because I knew my overactive imagination would make me dream about this at night.
The book is told from Alex's point of view. The story was told between flashbacks, police interview tapes during the aftermath and a movie script that Alex wrote. The book's timeline starts out 153 days ago up until 209 days later.
The book follows seven friends, Alex, Maddie, Reagan, Carter, Kenna, Jax, and Hazel who are all horror buffs. They all get into their retrospective colleges/universities, except Alex who was put on the waiting list. All of them want to be in the film industry in some way. When they find out Alex doesn't get in the group decide Alex has to make her script into much more than what she submitted to the school. With the help of a go fund me account and a celebrity who just moved into the community they all fly to Romania to film it. Only to find out the celebrity ditches them in Romania.
The setting was definitely fitting for the movie. It's an old eerie castle that is under construction and they were told it was safe for them to film there, or is it? Then factor in how far they are away from civilization, the creepy dark woods, and the constant rainy weather. Although when they get there they realize that it's not at all what they thought it would be. There is definitely more to this castle them meets the eye.
As they begin to film strange things begin to happen. One friend goes missing and is found dead and then it seems like someone is picking them off one by one but who? As each death happens they begin to become more grotesque. Who would do this and why?
I don't want to say much more for fear of giving it all away. Even though I started off a little confused and wonder what I was reading I did enjoy this. Although I wish there would have been more details of why and how it all came to be.
The pacing of the book, in the beginning, is okay as it was setting things up and the second half hit you in the face with everything that was happening. It was all action-packed. After reading it I definitely could see all the foreshadowing and wish I would have picked up on that sooner because after I read it all made sense. I definitely did not see that happening as I was reading it. The book was filled with twists and turns. I was shocked when I found out who the killer was. I didn't see that coming right away.
I definitely would read future books from Kelly.
About the author:

Kelly deVos is from Gilbert, Arizona, where she lives with her high school sweetheart husband, amazing teen daughter, and superhero dog, Cocoa. She holds a B.A. in Creative Writing from Arizona State University. When not reading or writing, Kelly can typically be found with a mocha in hand, bingeing the latest TV shows and adding to her ever-growing sticker collection.
Kelly is represented by Chloe Seager of the Madeleine Milburn Literary Agency in London. Her work on body positivity has been featured in the New York Times as well as on Vulture, Salon, Bustle and SheKnows. Her debut novel, Fat Girl on a Plane was named one of the "50 Best Summer Reads of All Time" by Reader's Digest magazine. Her second book, Day Zero, is available now from Inkyard Press/HarperCollins.
Website | Twitter | Instagram | Goodreads | Pinterest | Tumblr